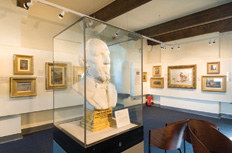 James Guthrie Orchar was one of Dundee's most prominent businessmen. A successful inventor, engineer and entrepreneur, today he is remembered primarily as a patron of the arts. His art collection – which contains over 400 paintings, drawings and prints – survives intact and is regarded as one of the most important Victorian collections of Scottish art in the country.
A selection of artworks from the Collection are currently on display.
The display features around 30 paintings, including portraits, landscapes and still lifes by artists of the Robert Scott Lauder Group – William McTaggart, Hugh Cameron, George Paul Chalmers, John MacWhirter, John Pettie and William Quiller Orchardson.
It also includes twentieth century paintings by Alec Grieve, Philip de Laszlo and James McIntosh Patrick.