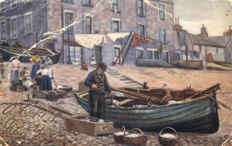 The 'Broughty Life' Gallery located on the first floor of the Castle investigates life in the area long before the dinosaurs, right through to the present day.
Meet the delightful Brochtie family and take a journey with them through time. Follow them as they move through the ages to reveal to you what life was like over the last 7000 years. See how food, shelter, jobs, education and recreation have all evolved.
Other highlights include a 5000 year-old food vessel and the model of the rail ferry that connected the trains from Fife to Angus before the Tay rail and road bridges were built.