Latest News
The Rock Orchestra
5 February 2024
The Rock Orchestra by Candlelight is returning to Caird Hall!
Following a sell-out tour of Europe, The Rock Orchestra by Candlelight returns with an epic, new 90-minute concert, breathing beautifully dark energy into legendary Rock & Metal.
In ethereal candlelit settings, this band of 14 classical musicians unleash effortlessly enchanting melodies alongside powerful walls of distortion. Witness the unexpected union of Classical music and Metal.
IN 2023 WE HOSTED: 103 SHOWS - 140,000 GUESTS and got an average review of 4.7 out of 5 stars from our customers.
Get ready for us to take you on a journey through the Rock & Metal genres with the biggest tracks from the last 50 years, performing the music of iconic bands including:
Nirvana, Metallica, AC/DC, Rage Against The Machine, My Chemical Romance, Foo Fighters, Linkin' Park, SOAD, Guns N Roses, Motörhead, Led Zeppelin, Evanescence, Papa Roach, The Cranberries & MORE!
"Bringing this project to life has been an awesome whirlwind", comments Nathan Reed, founder of The Rock Orchestra. "It astounds me how these legendary Rock tracks are transformed, nuanced with delicately beautiful melodies yet still delivering a powerful wall of sound that goes straight through your chest.
I can't wait to see what the next year has in store for us as we tour across the UK, Europe and the USA."
Disclaimer: The Rock Orchestra and its events are not affiliated with the artists and composers listed. All trademarks are the property of their respective owners.
Paul Smith - PABLO
22 August 2024
Attention all comedy fans! Paul Smith returns in 2024 with his brand new Show and its better than ever, "Pablo". Get ready to experience the jaw-aching, laugh out loud comedy that only Smith can deliver. This is Paul Smith's biggest and funniest tour show yet, and it promises to have you rolling around in laughter with every joke. The show features a mix of his trademark audience interaction and hilarious true stories from his everyday life. You can expect hysterics from start to finish, and you won't want to miss a minute.
The View
Sunday December 17 2023
Extra Date Added – Monday 18 December 2023
The View return to their home and the Caird Hall as part of the venue 100 year Celebrations.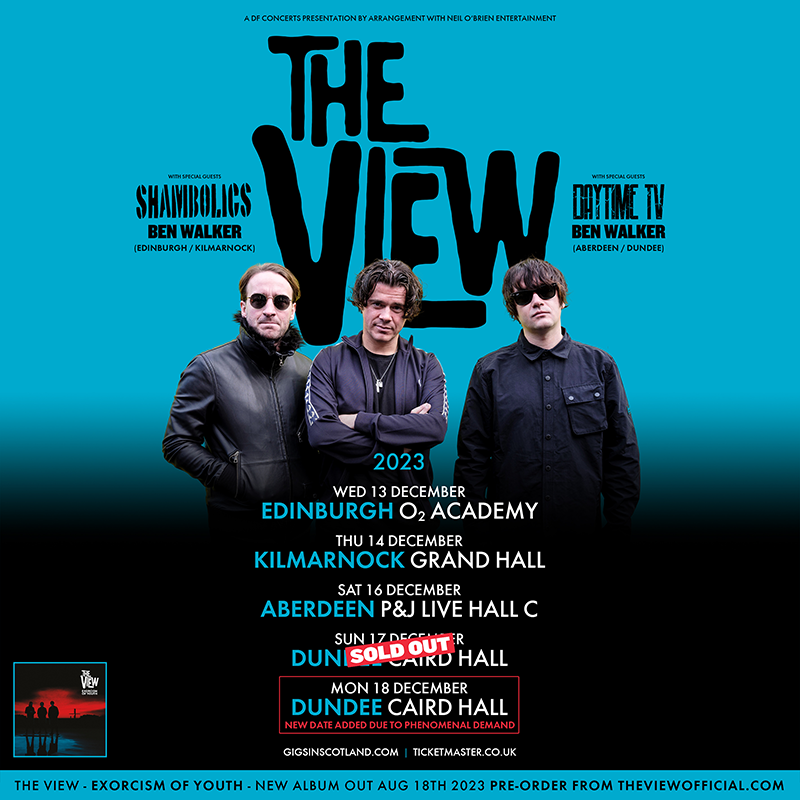 Rock The Halls 10
Friday 22 December 2023
ROCK THE HALLS HEADS TO THE CAIRD HALL FOR 2023
DUNDEE'S CHRISTMAS CRACKER - BIG, BOLD AND TEN YEARS OLD!
In an exciting development, one of the biggest Christmas nights in the city is moving to an even bigger venue this year as it celebrates an incredible 10 year run and will be the final Show at the Caird Hall in its 100th year of Celebrations.
ROCK THE HALLS started as an idea thinking it would be popular to mount a show featuring everyone's favourite Christmas number one hits. Little did anyone know that 10 years on the show would become a regular feature of the Christmas entertainment calendar and play to thousands of people from across the country each year in sell out shows. After 9 years at the Whitehall Theatre, it made sense to take the party 'to a party' and combine the celebrations of 10 years of the show with 100 years of the Dundee's iconic Caird Hall for one night only on Friday 22nd December.
A spokesperson for ROCK THE HALLS said "Christmas is always a busy time of the year for everyone but Rock The Halls continues to be a joy of a show for the cast, crew and audiences alike. It's a night to forget the worries of shopping, wrapping and everything else and to let your hair down and enjoy yourself. You really can't go wrong with an amazing live band, unbelievable singers and everyone's favourite Christmas tunes. It's BIG, it's BOLD and it's TEN YEARS OLD. Come and celebrate with the one and only ROCK THE HALLS!".
ROCK THE HALLS will feature a popular line up of vocalists, dancers, a rock choir and provide the usual mix of musical nostalgia and comedy along the way. Fan favourites Simon Gordon, Donna Hazelton, Kirsty McLaren, Scott McRuvie, Claire Wallis and Fiona McRobbie are all back along with a fabulous line up of dancers and of course the inimitable Chris Wylie as 'grumpy Wullie' keeping everything going. Look out for some extra special guests soon to be announced.
Christmas is an important time to reflect upon those in need of support and ROCK THE HALLS will be making donations to local charities from ticket sales.
Leisure and Culture Dundee is delighted to be welcoming the show to the prestigious Caird Hall as part of the 100th Anniversary of the iconic performance venue.
A spokesperson for Leisure and Culture Dundee said:
"We are excited to welcome the production of Rock The Halls to the Caird Hall for what will be our final concert of the Centenary Year and what a party to end on for the Christmas Season.
An amazing concert by local stars, it will be a fantastic night for the City."
Horizons - A 21st Century Space Odyssey with Professor Brian Cox
Wednesday 13 March 2024
Having set two Guinness World Records with his previous sell-out World Tour, Professor Brian Cox is back in regional theatres to see off the sellout Arena tour HORIZONS.
Horizons has taken over 250,000 people across three continents on a dazzling journey; a story of how we came to be and what we can become. Using state of the art screen technology, venues across the world from New Zealand to the Arctic Circle have been filled with images of far-away galaxies, alien worlds, supermassive black holes and the latest theories of the origin of the Universe. What is the nature of space and time? How did life begin, how rare might it be and what is the significance of life in the Cosmos? What does it mean to live a small, finite life in a vast, eternal Universe? Having travelled the world, it's now time to bring Horizons back home to the UK for a final journey around our magnificent and baffling Universe.
Horizons is a celebration of our civilisation, of our music, art, philosophy and science; an optimistic vision of our future if we continue to explore Nature with humility and to value ourselves and our fellow human beings.
CIRQUE – THE GREATEST SHOW
Sunday November 26 2023
Sunday, November 26, 2023 7.00pm, 2pm matinee
CIRQUE – THE GREATEST SHOW
Escape the ordinary and enter the world of the extraordinary!
ROLL UP, ROLL UP: BRAND-NEW CIRCUS MUSICAL CIRQUE – THE GREATEST SHOW IS COMING TO TOWN
It's time to step into the light and escape to a world where musical theatre meets "jaw-dropping" circus spectacular...
Cirque – The Greatest Show is coming to town, combining showstoppers from everyone's favourite West End and Broadway hits with breath-taking aerialists, incredible contortionists, and thrilling trapeze artistes.
The award-winning production is the latest theatrical treat to come from market-leading concert show specialists Entertainers. Company director James Taylor says that Cirque – The Greatest Show is the brand-new phenomenon everyone is talking about for 2023.
"It's a smash-hit circus musical is guaranteed fun for all the family," he says. "It takes you on a truly wondrous journey as a monochrome life, bursts joyously into kaleidoscopic colour."
Uplifting musical theatre hits are delightfully woven into the story of Cirque – The Greatest Show.
Stars of the West End combine with incredible circus performers on the biggest hits from the greatest musicals of all time.
"From The Greatest Showman to Moulin Rouge, Hairspray to Rocketman the Musical, there's something for everyone," says James, "all brought to the stage in unique, spellbinding style."
James describes Cirque – The Greatest Show as "a cracking new spectacular suitable for all ages".
"It's aimed equally at families and fans of musical theatre. . . in fact anyone who wants a great night out," he says.
"The evening's theme is that by taking a chance to step into the light you can achieve your heart's desire. In the world of Cirque you can be whoever you want to be – and live life to the fullest."
Boasting an all-star cast and promising the very best of musical theatre, mesmerising aerialists and circus stars and a charming tale promising an astonishing twist – Cirque – The Greatest Show invites theatregoers to enter the world of the extraordinary.
The Australian Pink Floyd Show
Wednesday 8 November 2023
DARK SIDE OF THE MOON
50TH ANNIVERSARY TOUR 1973-2023
PERFORMING THE CLASSIC PINK FLOYD ALBUM IN ITS ENTIRETY
#DARKSIDE50TOUR
"Setting the gold standard" – The Times
"For the record TAPFS are a phenomenon to be witnessed live… It's almost enough to make you forget you haven't been watching Pink Floyd, but a surrogate band" - Prog
"Probably the most popular tribute band in the world" - Sunday Times 'Culture'
The critically lauded The Australian Pink Floyd Show have announced The Dark Side Of The Moon tour for 2023 to celebrate the 50th Anniversary of Pink Floyd's timeless classic album.
The Dark Side Of The Moon 50th Anniversary Tour will bring to the stage an album that means so much to Pink Floyd fans all over the world. Originally released in 1973, The Dark Side of The Moon is one of the best-selling and most critically acclaimed albums of all time.
With over 30 years of history as the world's biggest, best and greatest Pink Floyd tribute show, TAPFS will be performing the album in its entirety. They will also once again bring state of the art lighting & video, pinpoint lasers, gargantuan inflatables and flawless live sound to deliver a memorable live experience that was the benchmark of Pink Floyd shows.
Sarah Millican: Late Bloomer
27 March 2024
When Sarah Millican was a bairn, she wouldn't say boo to a goose. Quiet at school, not many friends, no boobs till she was 16. Now? NOW she is loud, with good friends, a cracking rack and goose booing all over the shop. In Late Bloomer, Sarah's brand-new stand-up show, she explores how one became the other. Plus, lots of stuff about dinners and lady gardens. Come along, laugh at her, with her, beside her.
DIVERSITY
Presents … SUPERNOVA
BRAND NEW SHOW
66 SHOWS IN 40 TOWNS AND CITIES
ACROSS THE UK AND IRELAND
ONE OF THEIR BIGGEST EVER TOURS
Britain's most-successful dance group, Diversity, have announced their brand-new UK and Ireland tour, Supernova. The 66-date tour takes place across 40 towns and cities throughout 2023 and 2024. Tickets will go on sale at 10am on Friday 18th November* via gigsandtours.com and ticketmaster.co.uk. Tickets for Belfast and Dublin will be available via ticketmaster.ie.
Supernova follows Diversity's sold-out Connected tour earlier this year, which combined playful, comedic routines with powerful statements on human connectivity. Big, relentless, and energetic, the tour dazzled fans across the UK.
Diversity took the nation by storm when they won the third series of Britain's Got Talent in 2009 and have since sold out multiple UK and Irish tours, with countless television and live performances. Alongside preparing for their brand-new tour, and in keeping with their progressive, innovative nature, Diversity are currently preparing to launch Diversity Studios, which will offer in person and live streamed dance classes.
Last month, Ashley Banjo was awarded an MBE for his services to dance. Alongside choreographing and performing with Diversity, Ashley has been committed to educating people on dance, becoming a judge on Dancing on Ice, and offering his expertise as a host and creative in the BAFTA nominated The Real Full Monty and International Emmy Award, Broadcast Award, and Royal Television Society Award winning The Real Full Monty: Ladies Night. Ashley also had the honour of becoming a co-presenter at the Pride of Britain Awards last year, working alongside Carol Vorderman.
Jordan Banjo has also hosted a variety of TV shows, including two series of BBC 1's Primetime and BAFTA-nominated show The Greatest Dancer. Jordan along with Perri Kiely are also part of breakfast radio royalty, presenting Kiss Breakfast every weekday.
Diversity's illustrious career shows how they continue to innovate, grow, and achieve. Collectively Diversity recently won Virgin Media's Must-See Moment of 2020 at the British Academy Television Awards for their incredible Britain's Got Talent routine, watch here.
Diversity have also confirmed that they will be supporting anti-poverty charity the Trussell Trust, which provides emergency food and support to people locked in poverty while campaigning for change to end the need for food banks in the UK. Right now, millions of people across the country are facing a cost of living crisis as food and energy prices soar and families are feeling the biggest squeeze on incomes in a generation. Attendees on the tour are being invited to bring along food donations to the shows, where there will be collection points across the venue each night. There will also be collection buckets for any cash donations. All donations will be distributed to people in crisis across the 1,300 food bank centres in the Trussell Trust network. For more information on the items that are requested: https://www.trusselltrust.org/get-involved/ways-to-give/donate-food/.