We are immensely proud of our world class Harrison and Harrison pipe organ from its gentle strings and lyrical flutes, to the mighty trumpets and trombones, It is one of Dundee's Cultural gems and has been carefully restored for future generations.
The organ was designed by the famous organist of Edinburgh Alfred Hollins and holds a Grade 1 certificate from the British Institute of Organ Studies.
Click on this link to view the information and specification of the organ, kindly supplied by Harrison and Harrison, Organ Builders, Durham.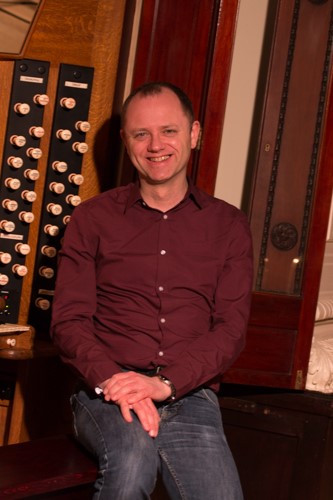 Stuart Muir was appointed to this post in 2002 and is also the Pastoral Musician at St Paul's Episcopal Cathedral in Dundee and the Director of Chapel and Ceremonial Services at Aberdeen University.
Stuart was tutored by John Langdon whilst studying music at the Royal Scottish Academy of Music and Drama in Glasgow.
Stuart also trained with Bernard Porter at St. Marys Episcopal Cathedral in Glasgow.
Stuart coordinates the annual Summer Season of Organ Concerts and supports the Friends of the Caird Hall Organ with their Educations and Events programme.
We welcome visiting organists around the schedule of events within the Caird Hall.
Stuart can be contacted by email - dundee.city.organist@gmail.com