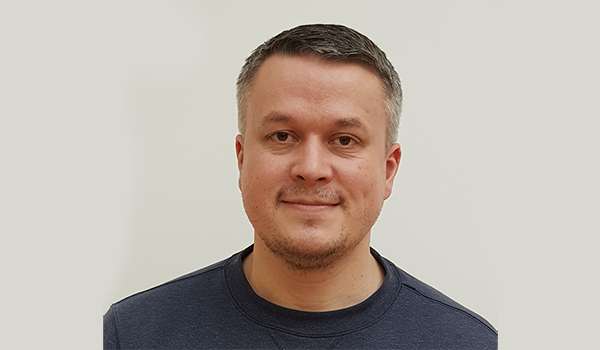 Run annually by the Scottish Council for Voluntary Organisations (SCVO), the Scottish Charity Awards celebrate the best of Scotland's voluntary sector.
This year's shortlist includes 32 individuals and organisations from charities and voluntary groups across the country following a record-breaking number of nominations. While a judging panel will determine the winners under nine distinct categories, members of the public can have their say by voting for their favourite overall entry in the People's Choice Award – by visiting scvo.scot/vote - before 5pm on Wednesday 24 May 2023.
Andrii Zhehestovskyi has been recognised as a finalist in the Volunteer of the Year category and Leisure & Culture Dundee Libraries are encouraging those in Dundee and surrounding area to vote for them.
Andrii supports Digital Inclusion in the Opportunities Project, providing basic IT support to library customers and access to the Databank. Speaking English, Ukrainian and Russian he has been a great support to ESOL groups accessing library services and other refugees arriving in Dundee. He has also engaged with library exchange programmes (online) which encompassed libraries in Ukraine. Andrii travelled to safety in the UK last year, and to settle here and become part of the community, he applied to volunteer.
Meg Marr - Volunteer Co-ordinator, Libraries & Information Services said
"Andrii deserves recognition for his outstanding contribution, and we ask everyone to vote for him. Andrii is patient, friendly and approachable. Feedback from staff and customers has been overwhelmingly positive. He is also a supportive, team player who buddies up with new volunteers and reassures them, whilst helping them settle into the role. The ESOL group worker has found his translation support invaluable for Ukrainian and Russian speakers arriving in Dundee. He is an excellent Ambassador for our services within these communities, raising awareness of the range of support available."
The 2023 Scottish Charity Awards winners will be announced at a celebratory awards ceremony in Edinburgh on 23 June 2023 - hosted by TV presenter Sally Magnusson.
Anna Fowlie, Chief Executive of SCVO, said
"This year's Scottish Charity Awards are a fabulous opportunity to celebrate the exceptional individuals and groups within our vibrant sector.

"This year's record-breaking number of nominations underlines the strength of Scotland's voluntary sector, and the crucial work that we see from charities and voluntary organisations across the country. The hard work and dedication of people and organisations like these 32 finalists are making Scotland a better place to live and work.

"There is still a chance to have your own voice heard by voting in the People's Choice Award. Don't be late – participate!"
To view the full list of finalists, visit the SCVO website.