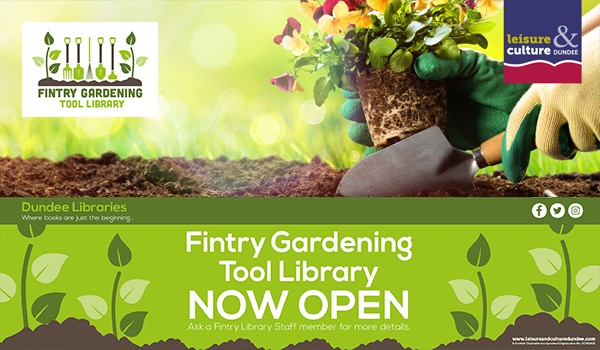 Today, Fintry Community Library launched a gardening tool library to bring residents in the area together to help provide support for wellbeing and sustainable living. The free service offers a selection of borrowable resources, such as books and tools. These can be taken out of the library and used in the local community garden at the rear of the library.
Staff at the library will also work with volunteers and other community groups in the garden to grow sustainable food and introduce children and adults alike to the benefits of gardening on their physical and mental health. They also plan to provide books and workshops that will allow the local community to develop various gardening skills, including how to create a flowering garden.
Moira Methven, Chair of Leisure & Culture Dundee said
"Libraries continue to be at the heart of our communities. These borrowable resources will make gardening accessible to all, regardless of their circumstances. We know there is a strong sense of community in the area, and we plan to build on that, improve participants mental health and encourage everyone to socialise and work together towards a common goal."
Pamela Tulloch, Chief Executive, The Scottish Library & Information Council said:
"Libraries across Scotland are continuing to evolve and adapt to best serve their communities, and this project is another excellent example of providing a service which really works for everyone involved. We believe this project has the potential to grow into something special which will really make a difference in the community.

"After a difficult two years for everybody across the country, the opportunity this project brings in terms of getting outside and enjoying the benefits of gardening, while at the same time potentially improving mental health, is something the SLIC team are happy to support."
Anyone interested in borrowing some tools can come in with a valid form of identification, and they will receive a new card that is to be used exclusively for the Tool Library. This will allow them to borrow tools for three weeks and they can renew them once, if there is no waiting list.
This project is supported by the Scottish Government Public Library Improvement Fund.
Anyone who wants to find out more about Fintry Gardening Tool Library can email fintry.library@leisureandculturedundee.com or call the library on 01382 432560.