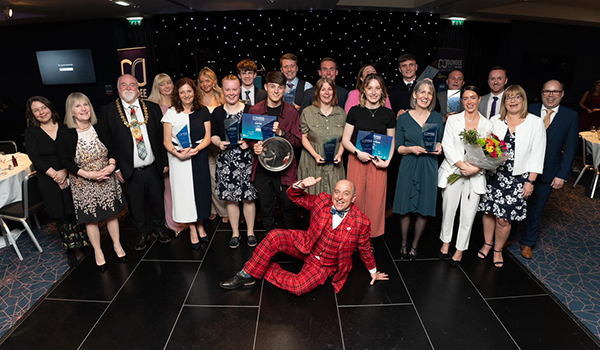 The Dundee Sports Award winners 22/23 have been unveiled at a glittering ceremony in the cityr's Apex Hotel. Led by Leisure & Culture Dundee, the charitable trust that delivers leisure, sports, cultural and libraries services, the awards celebrate the success of sporting clubs and individuals in Dundee. The awards were sponsored by the Gym Rental. Company Previously Leisure & Culture Dundee has held two separate awards evenings, one to celebrate school sport and another to celebrate community and performance sport. For the first time recognition was given to the success of our elite and community sports clubs, schools and athletes on the same, evening recognising the work taking place to provide sporting opportunities to more people in schools and communities across Dundee. The evening was compered by Bruce Aitchison, sports enthusiast and began with a poignant moment of applause for, Jack Stewart, the 6-year-old who died suddenly recently and was a pupil at Sidlaw View Primary School and player for Dundee West FC.
Urban Moves Dance Company provided entertainment for the gathered guests before athletes Gemma Lumsdaine and Sam Hickey shared their own inspirational sporting journeys. This year's awards were then presented before six-time British figure skating champion and Olympian, Natasha McKay, who recently announced her retirement, was recognised for the tremendous success she achieved throughout her career.
Judy Dobbie, Managing Director of Leisure & Culture Dundee, said,
"This past year has shown that the city's sporting achievements are again an inspiration to us all. A significant part of this is down to the hard work and dedication of colleagues, partners, volunteers and athletes who are committed and enthusiastic about sport in Dundee and beyond. The pathways to participation in sport at all levels are now well established and as well as congratulating everyone involved at these awards, we look forward to further success in future. I also want to extend a special thanks to the Gym Rental Company and all the sponsors and colleagues who helped make the Dundee Sports Awards 2223 such a success."
The full list of winners are:
| Category | Winner | Club/School | Award Sponsor |
| --- | --- | --- | --- |
| Student Volunteer of the Year 22/23 | Katie Joss | Grove Menzieshill Hockey Club | Abertay University |
| Young Volunteer of the Year 22/23 | Rebecca Moore | Harris Academy | Dundee & Angus College |
| School Volunteer of the Year 22/23 | Neil Ferrier | Harris Academy Cluster | Dundee Active Schools |
| Lifetime Commitment Award 22/23 | Jim Hunter | Dundee West Community Trust | Gladstone |
| School of the Year 22/23 | Harris Academy | - | The Courier & Evening Telegraph |
| Club of the Year 22/23 | Dundee Dragons Wheelchair Sports Club | - | Doe Sport |
| Jenny Wood Allen Memorial Trophy 22/23 | Cerys Hayes | Kanzen Karate | Dundee City Disability Sport |
| Young Sports Person of the Year 22/23 | Josh Holt | St Pauls RC Academy / Dundee United | Quest Precision Engineering |
| Sports Person of the Year 22/23 | Sam Hickey | Lochee Boys & Girls Club | Leisure & Culture Dundee |
| Changing Lives Award 22/23 - Community | Dundee West Community Trust | - | Sportscotland |
| Changing Lives Award 22/23 - School | Rosebank Primary School | - | Gym Rental Company |