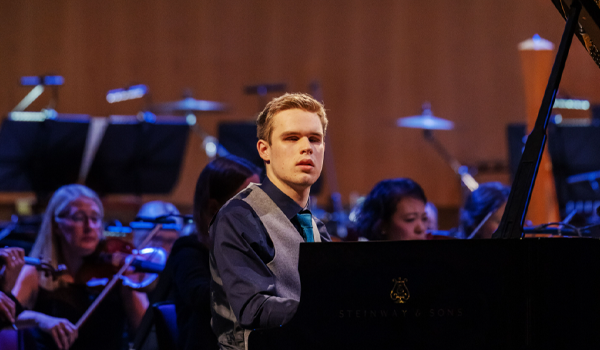 As part of the Caird Hall's centenary celebrations, a free concert on World Piano Day by pianist Ethan Loch will take place on Wednesday, March 29, 2023, from 2 pm at the iconic concert venue.
Ethan Loch is a 17-year-old Scottish pianist who won the Keyboard Category Final of the BBC Young Musician competition in September 2022. He went on to perform at the Grand Final at Bridgewater Hall with the BBC Philharmonic Orchestra, conducted by Mark Wigglesworth. The performance was broadcast on BBC Radio 3 and 4.
Ethan was born in 2004 and diagnosed completely blind since birth. As a toddler, he would explore the piano for hours, imitating his first inspiration, Rowlf the piano-playing dog from the Muppet Show and his other inspiration, the DVD "Horowitz in Vienna", was played relentlessly. His formal piano lessons began at age 4 with his mother, and he now studies with Fali Pavri at the Royal Conservatoire of Scotland.
This season Ethan performs solo recitals throughout the UK and joins the National Youth Orchestra of Scotland as concerto soloist. Ethan has also won the Scottish International Youth Piano Competition (2019), 7th James Waterhouse Loretto Piano Competition "Advanced" class (2017), Premio Asoluto prize at the 15th International 'Giuseppe Sciacca' awards (2016) and was a finalist in the EPTA Belgium International Piano Competition (2018).
Judy Dobbie, Director of Leisure & Culture Dundee said
"We're delighted to celebrate both the Caird Hall Centenary and World Piano Day with this free concert by Ethan Loch. What better way to mark these milestones than with a performance on the Caird Hall Steinway Concert Grand Piano by a young and talented musician who has already made waves in the music world? This is an event not to be missed."
The concert is free, no tickets are required and the doors open at 1:30 pm.