Book Week Scotland is an annual celebration of books and reading. Events will be taking place in Dundee Libraries from 27 November to 3 December. Many of our libraries are hosting special Bookbug Sessions. Please check with your local library for more details.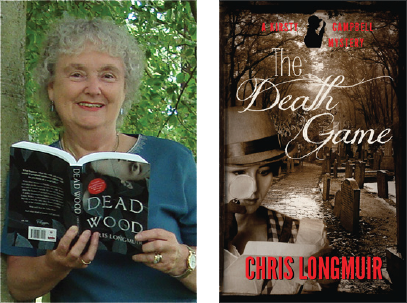 Monday 27 November, 5.30 - 6.30pm
Crime and Cake Café
Lochee Library, High Street, Lochee, Dundee DD2 3AU
Lochee Crime Reading Group invite you to their Crime and Cake Café, with Chris Longmuir and Wendy H Jones. Join these two ladies of crime for an intriguing evening of chat over some delicious baking: find out more about what goes into their writing and what influences they use to explore the darker side of life in Dundee. Chris is a Dundee International Book Prize Winner and Wendy is the author of the best-selling DI Shona McKenzie Mysteries.
Free, no need to book.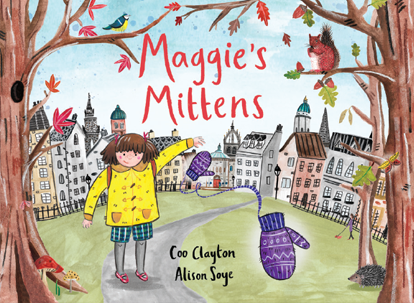 Tuesday 28 November, 11am
Maggie's Mittens
Children's Centre, Central Library, The Wellgate, Dundee DD1 1DB by kind permission of Black & White Publishing
Author Coo Clayton and illustrator Alison Soye will join us for a reading and activities based on their new book Maggie's Mittens.
When Coo Clayton walked her daughter Maggie home from nursery on a dreich day last autumn, she wasn't thinking about writing. Maggie and Mum were both out of sorts, with Maggie especially keen to get rid of her mittens, despite the awful weather. After picking Maggie's mittens out of a puddle for the twentieth time the idea for this charming story was born...
Invited audience of P1 and P1/2 children from Our Lady's PS.
Free, Young members of the public are welcome to join in the fun. No booking necessary, although space may be limited
Tuesday 28 November, 6.30 - 7.30pm
Gastro Salon with Rachel McCormack
Central Library, The Wellgate, Dundee DD1 1DB
This Gastro Salon brings you an all star culinary line-up! Rachel McCormack, food writer and broadcaster (Radio 4's Kitchen Cabinet), leads a panel discussion with Jamie Scott, Billy Kay and Emily Dewhurst. Jamie is Chef Patron of The Newport Restaurant, Master Chef Professional winner 2014 and a Scottish Chef of the Year 2017 finalist; Billy is a well known writer and broadcaster and author of The Complete Caledonian Imbiber, and Emily is the founder of Dundee-based publisher Kitchen Press, an award-winning independent publisher specialising in food writing. The panel will share their favourite food writing and chat about why they evoke special memories.
Free, but booking essential at: Eventbrite gastrosalondundee.eventbrite.co.uk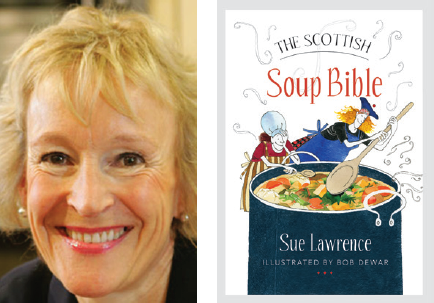 Wednesday 29 November, 2 - 3pm
Scottish Soup, Berries and Baking with Sue Lawrence
Central Library, The Wellgate, Dundee DD1 1DB
Sue Lawrence, 'Queen of Baking', is a food writer and journalist who has written many books on Scottish cooking and baking, including The Scottish Kitchen and The Scottish Berries Bible. Her latest title, The Scottish Soup Bible, is an imaginative and practical collection of recipes, celebrating this (not so humble) food. The winner of MasterChef in 1991, Sue regularly features on STV's The Hour and in 2013 appeared on the Christmas edition of The Great British Bake Off. Last year she also branched out into crime, publishing a Dundee-based crime novel, The Night He Left. Refreshments provided.
Free, but booking essential at: Eventbrite suelawrencedundee.eventbrite.co.uk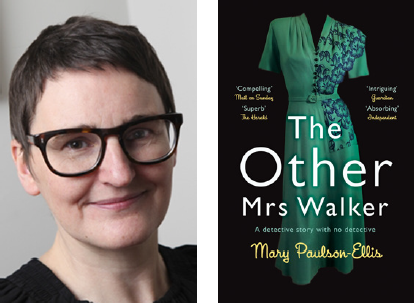 Thursday 30 November, 2 - 3pm
The Other Mrs Walker with Mary Paulson-Ellis
Central Library, The Wellgate, Dundee DD1 1DB
Mary Paulson-Ellis is an Edinburgh-based author who likes to write about what she calls the 'murderous' side of family life – the dark, the quirky and the strange! In 2016 she was named an Amazon Rising Star for her debut novel, The Other Mrs Walker, about a woman who finds families for dead people. The paperback was selected as Waterstones' Scottish Book of the Month in March 2017, and was number 3 in The Times Saturday best-sellers. The Herald has compared Mary to Kate Atkinson and described her first book as "one of the strongest debuts of the year". Refreshments provided.
Free, but booking essential at: Eventbrite mpedundee.eventbrite.co.uk
Friday 1 Dec, 12.30 - 1.30pm
Souper - Stories: Nourishing Lunchtime Tales
Central Library, The Wellgate, Dundee DD1 1DB
Enjoy a plate of soup and hear Mae Stewart, Erin Farley and library staff read food-related extracts from their favourite books, full of nourishing tales to warm your hearts. Mae is the ever popular author of local titles Dae Yeh Mind Thon Time and O is Fir Ingin. Erin is currently researching her PhD in Poetry, Song and Community in the Industrial City: Victorian Dundee, whilst also making a big impact with her literary-themed walks and events. Free entry with a food donation to a local foodbank.
Free, but booking essential at: Eventbrite souperstories.eventbrite.co.uk