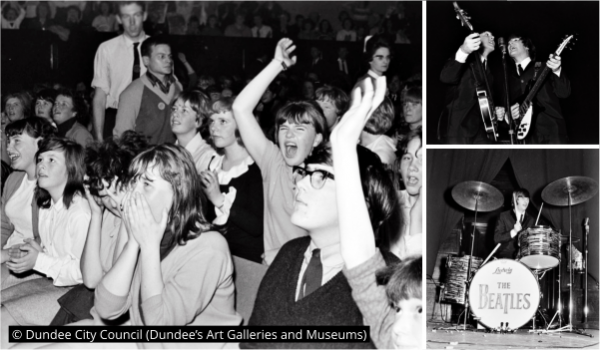 Photos taken in Dundee, the city where the phrase 'Beatlemania' was coined, have gone on show at The McManus: Dundee's Art Gallery & Museum. A small selection of 10 images taken of The Beatles performing at the city's Caird Hall on 20th October 1964 have gone on display as part of their Revealing Characters Exhibition. The images show the Fab Four in the early days of their meteoric rise to fame, performing in front of an excited crowd…
Taken by Monifieth-born photographer Winnie Forbes-Cochrane, these pictures are part of 33 photographs that were put up for auction earlier this year and successfully secured for the city's collection by Leisure & Culture Dundee.
The phrase Beatlemania was first conceived in Dundee after a promoter, Andi Lothian, witnessed fans' frenzy at Caird Hall in the city. These pictures represent a snapshot at the height of the craze, with a number of the photographs being of the fans. The gig was the eighth date of their 1964 British tour, and the second of three consecutive nights in Scotland.
Sinclair Aitken, Chair of Leisure & Culture Dundee said:
"We have such a rich and diverse musical heritage in Dundee. Caird Hall and the concerts there are a huge part of that, so it's really pleasing to see these pictures of The Beatles come home. These pictures are a fantastic acquisition for The McManus and will now be preserved in our collections for future generations to enjoy."
The museum has also had some unique merchandise created from the images which is for sale in their shop. The McManus is free to visit and Revealing Characters, an exhibition looking at the enduring attraction of the portrait, runs until Sunday 3 February, 2019.
Press Release Date: 13 November 2018