What's On - Beat Generator Live
Beat Generator Live
66-70 North Lindsay Street
Dundee
DD1 1PS


Tel No : 01382 229226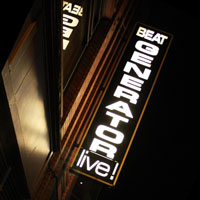 An Evening with Rat Scabies

Friday 28th June 2019 8:00pm

We are excited to welcome punk legend Rat Scabies to Dundee, for an intimate night of conversation, followed by a Q and A session....

Almost Blue Festival

Saturday 29th June 2019 4:00pm

Almost Blue is back for its eighth year with a full Saturday of live music on 29th June....

Edwyn Collins

Tuesday 3rd September 2019 7:30pm

Edwyn Collins at Beat Generator Live! Information published by Leisure and Culture Dundee.

Dirtbox Disco

Friday 6th September 2019 8:00pm

"Hooray Hooray, it's Dirtbox BOX Day!" comes the chant from Dirtbox Disco fans every August at the Rebellion Festival in Blackpool. ...

StillMarillion

Saturday 14th September 2019 8:00pm

StillMarillion pay homage to the classic Fish era of Marillion. The band formed in 2008 and feature the vocal talents of Martin Jakubski, in 2014 Martin was chosen by original Marillion guitar...

Heavy Rapids

Saturday 21st September 2019 8:00pm

Heavy Rapids are an Alternative Punk/Rock band based in Glasgow, formed in 2017. In their first year the band have had multiple festival appearances including TRNSMT's and Glasgow's Tenement Trail...

The Smiths Ltd

Saturday 5th October 2019 8:00pm

The Smiths Ltd was formed in Manchester, UK the hometown of The Smiths....

Anti Nowhere League

Saturday 26th October 2019 8:00pm

An infamous group of hardcore punk rock anarchists, Anti Nowhere League have been living the punk lifestyle for over three decades....

999

Friday 15th November 2019 8:00pm

999 are famous for their Punk classics Nasty Nasty, I'm Alive, Me and My Desire and the clever pop punk singles Emergency and Homicide....

The Sex Pistols Experience

Friday 29th November 2019 8:00pm

The Sex Pistols Experience are the World's leading Pistols tribute with a Worldwide reputation....
copyright