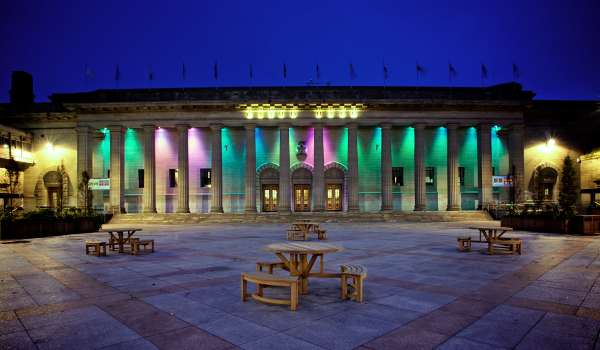 The Friends of the Caird Hall Organ have received a donation of a typewriter and dictionary of hymnology originally belonging to Alfred Hollins, the inspirational organist and designer of Caird Hall organ who was blind from birth. The items will be added to the current Hollins exhibition and archive at the venue.
92 year old Reverend Gordon McGillivray has agreed to donate the items that were gifted by Alfred Hollins to the Reverend at the start of his career in 1940. Reverend Gordon McGillivray was Minister of Waterbeck Parish Church and then Nairn High Church before becoming Clerk to the Presbytery of Edinburgh. His father was an organist at Colington Parish and for a time Secretary of the Edinburgh Society of Organists.
Reverend McGillivray's daughter delivered the items to Dr Jim McKelichan, the archivist for the Friends of the Caird Hall Organ so that they can be included in the exhibition and remain as part of the Hollins archive.
The Caird Hall organ was built by Harrison & Harrison of Durham and is a Grade 1 Historic Organ. It is recognized as one of the finest instruments of its kind in the UK. In 1923, Hollins played at the inaugural recital of organ he himself had designed.
In 1991 the organ was carefully restored by the original builders and the pitch sharpened to make the organ playable with the visiting orchestras / bands. The exhaust pneumatic action has been restored in its entirety, and the original adjustable pistons, one on each division save the Orchestral, which had two, allow for the pneumatic piston action to be fitted with an electronic memory.
Access to view the Hollins Exhibition can be made by appointment by contacting Angela Doran on 01382 434111 or by emailing angela.doran@leisureandculturedundee.com.
Press Release Date: 22 January 2016