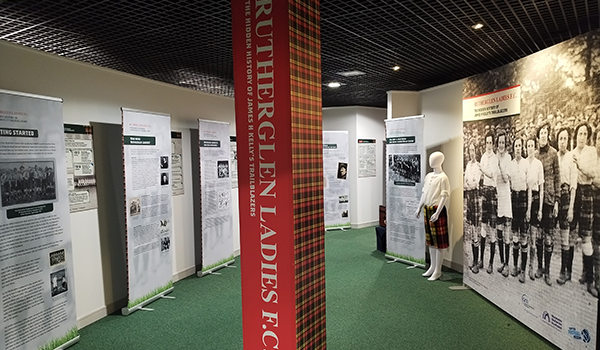 Dundee Central Library is delighted to host the Rutherglen Ladies Football Club exhibition which first opened at the Scottish Football Museum, Hampden Park, Glasgow ahead of the 100th anniversary of the FA's ban on women's football in 1921. It has toured several venues across Scotland since then and Dundee will be the final destination before its return to Hampden.
Funded by Museums Galleries Scotland, it is based on research by women's sports historian Dr Fiona Skillen, of Glasgow Caledonian University, and football historian Steve Bolton.
During the 1920s and 1930s, Rutherglen Ladies FC's players had to battle against the odds just to play matches, as the FA and the Scottish FA deemed the game 'quite unsuitable for females'. A ban was enforced on December 5, 1921.
Led by superstar captain Sadie Smith, the grandmother of singer-songwriter Eddi Reader, Rutherglen Ladies toured Ireland, played in exhibition games in front of thousands and raised money for charity.
Dr Skillen, senior lecturer in history at Glasgow Caledonian University, said: "There's a perception that women's football didn't happen in Scotland between the Victorian period and the mid-1950s. This research shows that it did. We are rewriting the history books with our discoveries.
"Rutherglen Ladies showed incredible resolve and resilience and had to overcome significant barriers just to play the game. They deserve recognition for their unique place in history."
The exhibition traces the development of the team from its foundation in 1921 through to disbanding in 1939. It explores the lives of the manager J.H. Kelly and the players themselves, whilst also telling the story of their ground-breaking tours in Scotland, England and Ireland.
The exhibition is now open at Dundee Central Library and runs until 6th January 2024. It is located on the upper foyer near Local History which holds the Football Memories Collection of books and local football programmes.
Entry is free during normal library opening hours www.leisureandculturedundee.com/library/central-library-wellgate