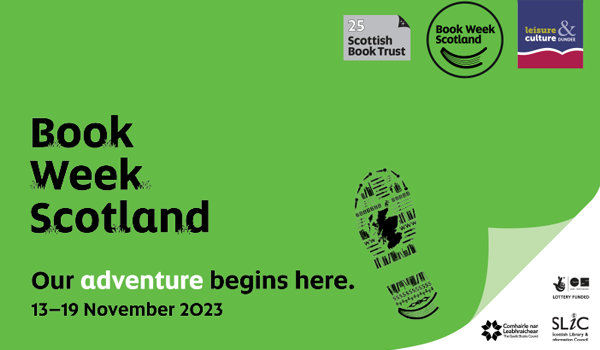 Dundee Libraries are holding a series of events to celebrate Book Week Scotland 2023 (13 to 19 November).
Book Week Scotland is a national celebration of books and reading. The theme for Book Week Scotland 2023 is Adventure. During Book Week Scotland, people of all ages and walks of life come together to share the joy of reading. Together with Scottish Book Trust's curated programme, partners deliver hundreds of unique, exciting events and activities that celebrate the transformative power of reading. They are joined in this celebration by Scotland's authors, poets, playwrights, storytellers and illustrators to bring a packed programme of events and projects to life.
Those who want to spend the week reading will also have plenty of choice, with a free book distributed to libraries and Book Week Scotland partners across Scotland in the run up to the week.
Highlights from Book Week Scotland 2023 in Dundee Libraries will include:
• Adventures in Writing - in conversation with author Susi (S.J.I.) Holliday at Dundee Central Library - Monday 13 November 2023, 6 - 7pm (free ticketed event)
• How to Read a Book with Dr Mhairi Rutherford at Dundee Central Library - Wednesday 15 November, 2-4pm (free ticketed event)
• Author Talk with Mark Simmons at Blackness Community Library - Thursday 16 November, 2.30-3.30pm (free ticketed event)
• Storytelling with Owen Pilgrim at Broughty Ferry Community Library - Saturday 18 November, 10.30-11.30am (free ticketed event)
• The Tannahill Song with Professor Fred Freeman at Lochee Community Library - Saturday 18 November, 2.30-3.30pm (free ticketed event)
This year, we'd also like to invite everyone to share with us how you celebrate Book Week Scotland when you aren't in the library through our Book Week Scotland Photography Competition. You can send us a photo that captures their version of a reading adventure. Lucky winners from four age categories will receive a book token and their winning entries will be featured on our website).
Tanya Duthie, Service Manager, Adult Library & Information Services at Leisure & Culture Dundee said,
"We are delighted to host a week-long programme of reading adventures as we welcome experts from the worlds of writing, illustration and music to our libraries. There really is something for everyone this year and we look forward to all ages coming along to the libraries to join the celebrations."
Pamela Tulloch, Chief Executive of the Scottish Library & Information Council said,
"Book Week Scotland is an important opportunity to bring communities together to celebrate the power of reading which is why SLIC is proud to be a partner. With a brilliant programme of events lined up in libraries across the country, there's something for everyone. We hope people will take this opportunity to rediscover all that local libraries have to offer."
To find out more about our events and the photography competition visit our website www.leisureandculturedundee.com/bws and look out for updates on Dundee Libraries social media. All events are free and booking is via Eventbrite. If you need any booking assistance library staff are happy to help on 01382 431539.
Working with a wide range of partners, Scottish Book Trust - the national charity changing lives through reading and writing - will deliver events and activities across the country during Book Week Scotland 2023, which runs from 13 to 19 November, linked to this year's theme of Adventure. Now in its twelfth year, Book Week Scotland was initiated by the Scottish Government.