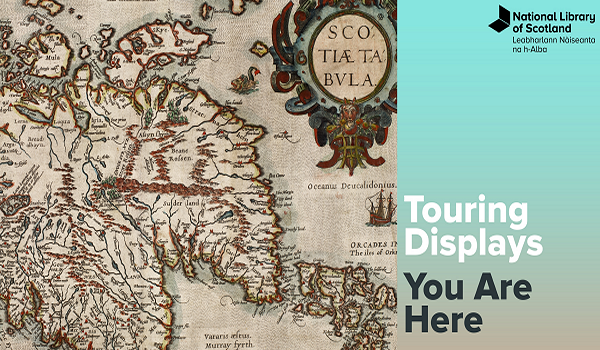 The National Library of Scotland's touring display, 'You Are Here', is on the road and its next stop is Dundee Central Library.
A portable version of the acclaimed 2016 exhibition, 'You are Here: A journey through maps', the display features images of some of the millions of maps held at the National Library.
Split into 10 lavishly designed and detailed components, the display poses questions such as: do all maps show real places? Do maps go out-of-date? How is the spherical world made flat? Why is north to the top? The display is complemented by a useful glossary of cartographical terms, and an interactive map-handing box featuring maps from the Library's collections as well as map tools, globes and curiosities.
Map Curator, Paula Williams said:

"Maps are everywhere - on our phones, in our cars and pockets, on bus stops and adverts, and lavishly decorating our walls - but how much do we really know about them?

"They help shape how we see and understand the world but they are not always instruments of objectivity - they are created by individuals, many of whom have their own story to tell. I hope visitors to the display will delight in the images we're highlighting from our collections - we have some of the rarest, most beautiful maps in the world. The display should prove both educational and perhaps even thought-provoking - viewers might well question the validity of the maps in their pockets or phones and not treat them as absolute truth. Where there's a map, there's often a good story."
The 'You are Here' Exhibition is at Dundee Central Library until Thursday 14th December during normal library opening times, admission free. www.leisureandculturedundee.com/library/central-library-wellgate
The exhibition has been brought to Central Library in conjunction with the Dundee Mountain Film Festival 2023. The Festival's Thursday Evening Special Event is on the 23rd November at 7.30pm in The Steps Theatre, Central Library and features two speakers,
Paula Williams "You Are Here" - A journey through maps and
Kate Ferrier "Head For The Hills" - Walking with Sir Walter Scott.
Tickets are £10. For more booking information go to dmff.co.uk
An online companion to 'You Are Here' is also on the Library's Learning Zone - visit www.nls.uk/learning-zone.
Background
National Library of Scotland
The National Library of Scotland is a major European research library and one of the world's leading centres for the study of Scotland and the Scots - an information treasure trove for Scotland's knowledge, history and culture.
The Library holds more than 29 million physical items dating back over 1000 years, as well as a growing library of e-books, e-journals and other digital material. The collection includes more than four million books, eight million manuscripts, two million maps and more than 45,000 films and videos. Every week the Library collects around 3,000 new items. Most of these are received free of charge in terms of Legal Deposit legislation.
Touring displays
Touring displays enable the National Library to continue to reach new destinations and forge new relationships with organisations in the heritage and culture sectors. The displays are drawn from a selection of previous exhibitions and take the form of portable graphic banners, accompanied by facsimile collection items.