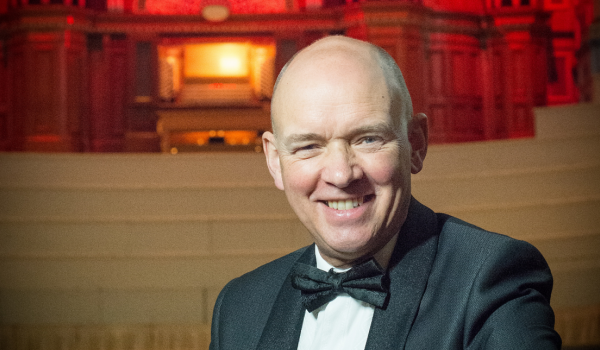 Gordon Stewart, Honorary President of the Friends of the Caird Hall Organ, will be performing at Caird Hall, Dundee for the first Summer Organ Concert of 2022 on Tuesday 7 June, 2022.
The main feature will be a specially commissioned piece dedicated to John Calderhead the City Organist from 1970 - 1991. John Calderwood, who died in 2021, had a long career in music in the city. Added to his role as City Organist, he was also a previous head of the Music Department at Dundee College of Education and a church organist, most notably at Barnhill St Margaret's Parish Church.
Gordon Stewart was born in Dundee, the son of Rev. James Stewart, minister of St Matthew's Church. He studied piano with Kathleen Blackwood and organ with Eion Bennet and W D Bernard before leaving Dundee to study in Manchester and Geneva with Eric Chadwick, Gillian Weir and Lionel Rogg., being awarded a performer's diploma with distinction in Manchester and a Premier Prix and the Prix Otto Barblan in Geneva. For 15 years he worked in cathedral music, first at Manchester then at Blackburn. For 30 years he was organist at Huddersfield Town Hall playing the 1870 Father Willis organ. He is now Organist Emeritus.
He has recorded on organs in the UK and in South Africa on the Priory, Dolcan and Lammas labels and has played concertos with the BBC Philharmonic Orchestra, the Northern Chamber Orchestra, Orchestra of Opera North and Orchestra Victoria. For over 20 years he broadcast regularly as organist and conductor on BBC radio and television, chiefly as a musical director on Daily Service, Sunday Half Hour and Songs of Praise.
Gordon's repertoire is large and covers all the major schools of organ composition. He is well-known as a teacher and taught for several years at the Royal Northern College of Music, then at Cambridge University, teaching the organ scholars at, amongst others, King's, St John's and Jesus Colleges. He has appeared as visiting tutor at courses for the Royal College of Organists, Oundle Organ Week, Gothenburg Organ Academy and Shenandoah Church Music Institute in Virginia.
Gordon has played concerts throughout the UK including Celebrity Concerts at St Paul's Cathedral, Westminster Abbey, Westminster Cathedral, throughout Europe, and in the United States, South Africa, Australia and New Zealand.
Gordon is a former president of the Incorporated Association of Organists. He has been awarded honorary fellowships by the Royal College of Organists, the Royal School of Church Music and the Guild of Church Musicians, and an honorary doctorate by the University of Huddersfield.
Tickets are available via Dundee City Box Office.