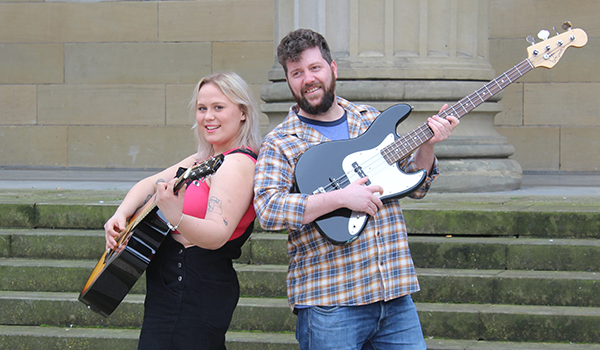 Some of Dundee's top musicians have received grants after successful applications to the Dundee Musicians' Award. The awards were established in 2008 to support the work of outstanding Dundee-based musicians and help with the costs involved in creating new work in any genre, research, and professional development.
In 2022/23, funding has been awarded to:
Milhouse Collective
Milhouse is a collective of musicians and artists from Dundee, known for their unpredictable live performances and inclusive DIY ethos. The main course is punk-funk-jazz, with a side order of kitsch psychedelia.
Bringing together musicians from various backgrounds, the group challenges audience expectations by offering an engaging and unique live experience" most recently with their monthly sold-out '2nd J' parties. Collaborating with a diverse line up of local musicians, the band is creating a community where performers and audiences celebrate and connect with music in new and exciting ways.
Step into their psychedelic blend of jazz, funk, hip-hop and club music - you never know what to expect next.
Rhuari Campbell
Rhuari is a Singer-songwriter and multi-instrumentalist of equal parts Fife and Dundonian. After many years playing in bands such as Cawdor Drive and Get Tay Folk, Rhuari is now ready to record some of his self-penned, contemporary folk songs with the support of some local musicians.
Katie Nicoll
Katie Nicoll is a 19 year old independent singer/ songwriter from Scotland. After releasing her first single 'Regina George' at the age of 16, Katie was quick to receive radio plays from the likes of Scottish presenters Robin Galloway and Jim Gellatly. Katie has also been lucky to support other recognisable Scottish acts such as Be Charlotte and Brownbear.
After moving to Dundee in 2021, she released another single called 'Easy Peasy Lemon Squeezy', which she recorded with producer Mark Tindal in Dundee. This song was soon picked up by BBC Introducing and BBC Scotland's Janice Forsyth and was made Track of the Week on BBC Scotland's Afternoon show.
Most recently, Katie dropped her single 'Be Mine (Oh My Gosh)' at the beginning of October, which was picked up by BBC Radio 1's 'Future Alternative' show.
Katie hopes to make it full-time in music someday- but for now, she's only just getting started!
Rachel Dbeis
Rachel Dbeis is a songwriter, arranger and singer who also trained as a medical doctor. Born in Lebanon and Dundee based, she writes in multiple languages and combines different genres. Her songs address the topics of love through the lens of identity, gender, queerness and satirise certain political themes and societal topics. She will release her first single in 2023 as she continues to write songs for her first album and for other singers. The award funded an intensive workshop with The Songwriting Academy to improve her songwriting skills and collaborate with other songwriters and producers.
Judy Dobbie, Managing Director of Leisure & Culture Dundee, said
"The Dundee Musicians Award is supporting a wide range of projects this year. We have increased the Award to £600 due to the cost of living crisis to boost the assistance given to Dundee based musicians. The awards will support training, professional development, recording and producing and continue to raise the profile of the excellent and diverse music coming out od Dundee."
Leisure & Culture Dundee stages the Dundee Musicians Award to support projects that look at creative development through collaborations, working with new partners, or new producers. Each of the award winners receives £600. There does not have to be a recording or gig at the end of the process; the creative process is valid enough. Support is given to applications that stimulate new and innovative work and give musicians time to experiment and explore.