Contact Details
Address
Central Library
The Wellgate
Dundee
DD1 1DB
Opening Hours
| Day | Time |
| --- | --- |
| Monday, Tuesday, Thursday, Friday | 9.00am to 6.00pm |
| Wednesday | 10.00am to 6.00pm |
| Saturday | 9.30am to 5.00pm |
Poet and Tragedian of Dundee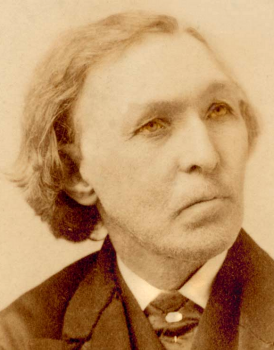 He may have been born in Edinburgh, and he certainly died in Edinburgh, but Dundee is the city where William McGonagall's art first flourished.
Dundee has a place in its heart for the world's best bad poet, who entertained countless thousands with disjointed verse that didn't scan, and whose purely functional rhyme paid scant attention to the overall demands of narrative.
And yet, he is an enigma. His language quietly achieves an evocative economy which is the hallmark of good poetry. Only Dundonians know how well the phrase "Silvery Tay" conjures up the river on a still winter's day. He foresaw the Tay Bridge disaster. Even more intriguingly, Lewis Spence relates how McGonagall was able to discourse intelligently on the likes of Shakespeare or Swinburne, thus totally belying his popular image as an ingenuous buffoon.
Is there a possibility that McGonagall became trapped within his own web of deceit? Were his initial musings and recitals intended as parodies? Was he then lured into continuing the charade by means of 5/- (£0.25) or 10/- (£0.50) fees cleverly extracted from the baying crowds who attended these supposed humiliations? McGonagall had a large family, and hand-loom weaving was hardly a stimulating or profitable occupation. These temptations to "give up the day job" must have been overwhelming at times.
Moreover, McGonagall was encouraged by the great Dundee philanthropists of the time, whose names are still remembered with affection – the Rev. George Gilfillan and A. C. Lamb. The latter paid McGonagall's return fare from his disastrous debut in New York, and both were a constant source of support for the impoverished bard.
Whatever the truth of the matter, who cannot fail to appreciate this eternal optimist, tramping all the way to Balmoral in appalling weather so that his revered monarch might receive a volume of treasured poems from his own hand? Sadly, he was turned away at the gate; but it is perhaps worthy of note that, throughout the journey, he was kindly and courteously received by the common people.
This wonderful, warm, and vastly underrated character struggled to assert himself just as much against the poverty afflicting handloom weavers as against the manifold prejudices of his day. He is fittingly commemorated by the William McGonagall Collection in the Local History Centre of Dundee Central Library.
Research Materials Available
Newscuttings. 105 pp. 1872–1977. Continued in the general cuttings volumes
Jack o' the Cudgel. A new play in three acts dramatised by William McGonagall, July 1886
Manuscript autobiography
41 manuscript poems
36 items of MS correspondence – many are literally begging letters
344 broadsheets, of which 17 are signed copies
29 printed titles
28 ephemeral items in the A.C. Lamb Collection