Whats On - Whitehall Theatre
Whitehall Theatre
12, Bellfield Street
Dundee
DD1 5JA


Tel No : 01382 434940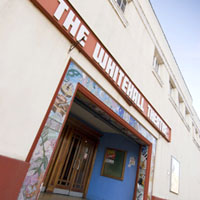 The Wizard of Oz

Saturday 30th September 2017 7:30pm

The Wizard of Oz is a 1939 American musical fantasy comedy-drama film produced by Metro-Goldwyn-Mayer, and the best-known and most commercially successful adaptation based on the 1900 novel The...

Thank You For The Music

Saturday 7th October 2017 7:30pm

The ultimate tribute to ABBA and the Bee Gees......

Ray Mears

Wednesday 11th October 2017 7:30pm

From a very young age Ray discovered the joys of exploring the Wilderness, the most intact, undisturbed wild natural areas left on our planet. His fascination with this environment that has not...

Dirty Dusting

Thursday 12th October 2017 7:30pm

Treat yourself to an evening of pure theatrical Viagra when Dirty Dusting returns to the stage in 2017. ...

A Night Of Dirty Dancing

Thursday 19th October 2017 8:00pm

No film has captured the hearts of a generation like Dirty Dancing. Relive the passion, indulge in the romance and celebrate the greatest movie soundtrack of all time....

Memories are Made of This

Friday 20th October 2017 7:30pm

This fast moving, roller coaster of a journey through some of the greatest songs of the 50's, 60's and 70's, will be a show you are sure to remember. Over 160 amazing costumes, a touch of humour...

Acari - Comedy Hypnotist

Saturday 21st October 2017 7:30pm

Acari is back for his 7th year at the Whitehall....

World Famous Elvis Show

Saturday 28th October 2017 7:30pm

Starring and produced by world renowned Elvis performer Chris Connor. With his 12 piece live band 'The Steels', & backing vocals by 'The Sweet Harmonies'...

The Dreamboys

Thursday 2nd November 2017 8:00pm

The Dreamboys are without a shadow of a doubt the UK's top male strip show, perfect for a girls night out with all your friends. Their showcase is unquestionably the most famous male stripper act...

Nathan Carter

Saturday 4th November 2017 7:30pm

As one of Ireland's biggest live music acts, Nathan is developing into a household name, with tracks from 'Stayin' Up All Night" becoming hits, such as 'Wagon Wheel" and 'I Wanna Dance"....
copyright