What's On - Broughty Castle Museum
Broughty Castle Museum
Castle Approach
Broughty Ferry
Dundee
DD5 2TF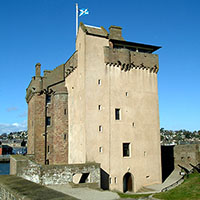 Talks and Tours: Tales from the Castle

Saturday 26th May 2018 3:00pm

If Broughty Castle could talk, what tales it could tell! Join our informal guided tours that explore this remarkable historic building and its museum collection displays. Talk lasts approx. 30 mins...

Gala at the Castle!

Saturday 7th July 2018 11:00am

Celebrate Broughty Ferry Gala Week at a special Family Event at the Castle. The Creative Learning Team will be helping visitors to get crafty and create beach themed mobiles, and one of our Natural...

Dundee Doors Open Weekend: Broughty Castle Museum

Sunday 16th September 2018 1:00pm

A rare chance to explore the underground ammunition magazine at Broughty Castle. Shells and cartridges were once stored here to feed the 4.7-inch Quick Fire Coastal Defence guns on the ramparts...
copyright