What's On - Broughty Castle Museum
Broughty Castle Museum
Castle Approach
Broughty Ferry
Dundee
DD5 2TF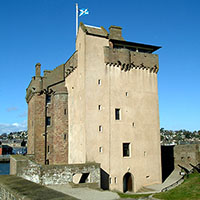 Walk and Talk with Mental Health Mates Dundee

Sunday 5th May 2019 11:00am

Mental Health Mates is a network of peer support groups, run by people with mental health issues, who meet regularly to walk and talk without fear or judgement. You do not have to have a diagnosed...

J. G. Orchar: Man, Provost, Collector

Thursday 6th June 2019 1:00pm

Join us in the Castle's Orchar Gallery to come face to face with one of Dundee's great industrialists, and discover the story of his remarkable Victorian collection of art....

Wildlife Watch

Saturday 6th July 2019 1:00pm

Join our Natural History Curator to learn more about the birds and other wildlife that can be found in and around Broughty Ferry, the Castle and the Firth of Tay during the summer....

Tales From The Castle

Saturday 10th August 2019 3:00pm

If Broughty Castle could talk what tales it could tell! Join our Visitor Assistants for informal guided tours that explore this remarkable historic building and its museum collections....
copyright