What's On - Slessor Gardens
Slessor Gardens
Dundee Waterfront
Dundee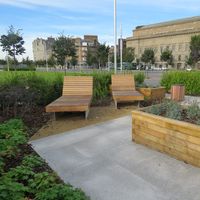 Summer of Steps 2018 Tour

Friday 22nd June 2018 5:00pm

There is no greater comeback than Steps. The iconic pop group have returned to claim their crown! Their Summer of Steps 2018 tour includes a concert at Slessor Gardens, Dundee on Friday 22 June...

Rita Ora

Saturday 28th July 2018 4:00pm

Global Superstar Rita Ora is coming to Dundee Slessor Gardens and will be bringing her dynamic performance and arsenal of hits to the city on Saturday 28 July 2018....

Grandslam 2018: Simple Minds and The Pretenders

Sunday 9th September 2018 6:00pm

Global icons Simple Minds and The Pretenders continue to enjoy outstanding musical journeys and phenomenal worldwide success. They now come together on the same stage for the first time since Live...