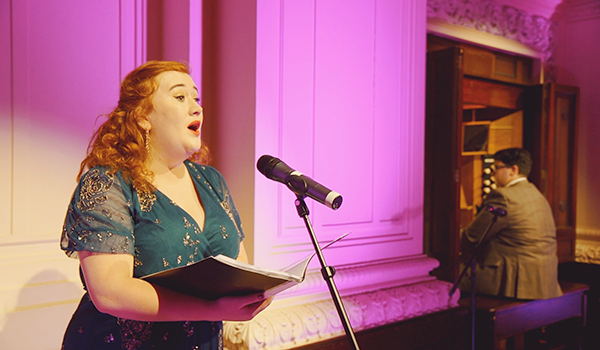 The Caird Hall in Dundee is wishing everyone a Merry Christmas in a video featuring a top Scottish Soprano that has been released ahead of an online concert premiering on YouTube this Sunday 20 December at 2.30pm. The clip from the famous carol, "We Wish you a Merry Christmas" stars Rosie Lavery and sees the magnificent Harrison and Harrison Caird Hall Organ played by leading Organist, Aaron Hawthorne ahead of the Music for Christmas 2020 Concert this weekend.
The concert is being shown in the run up to Christmas in the hope of bringing people together online, while socially distancing, to enjoy some festive cheer during this difficult year. This is the second concert in the series and was recorded live in the famous auditorium. The programme includes In the Bleak Midwinter, Joy to the World, We Wish You A Merry Christmas, Auld Lang Syne and much more. Dundee company, 81 Films, undertook the filming over two full days in the Caird Hall recently.
Susan Gillan, Caird Hall Manager said
"We are delighted to be able to bring Festive Music to everyone, we realise that 2020 has been challenging for all and that the Festive Season can add to the feelings of isolation. This Concert provides the opportunity to hear our World Class Pipe Organ in all its glory alongside the very talented soprano Rosie Lavery with all the well-known tunes we all want to hear at this time of year. This by no means replaces all the wonderful Christmas Concerts we usually stage at this time of year but we hope the Concert goes someway to bring some joy as we head into 2021."
Soprano, Rosie Lavery said
"Why not finish 2020 on a high and join us in a festive concert in the stunning Caird Hall. You'll hear some old classics, some modern reworkings and a 2020 version of the 12 days of Christmas. I hope you enjoy meeting with us virtually in this beautiful venue as much as we enjoyed physically being there, and we hope to see you all there face to face sometime soon."
Organist, Aaron Hawthorne said
"After a year of utter doom and gloom as a professional musician, it was a joy to be invited to Caird Hall to provide a virtual Christmas Concert on the mighty Harrison & Harrison organ, alongside my very talented soprano friend and colleague, Rosie Lavery."

"I hope that you might see a side to the organ that you haven't heard before. The 1923 instrument is extremely orchestral, and if I've done my job right, you might convince yourself you're listening to the RSNO."

"Between myself and Rosie, we hope that you can use this concert as an hour of complete escapism from the toils of 2020 and maybe even take away a little festive cheer. From Carols to Waltzes to an exciting musical reimagining of the classic poem "A Visit from St Nicholas", there's something for all of the family to enjoy."
The concert will be available via Leisure & Culture Dundee's YouTube Channel on Sunday 20 December at 2.30pm. It is free to view to ensure accessibility for all and supported by Creative Scotland's Performing Arts Venue Relief Fund.
#LetTheMusicPlay