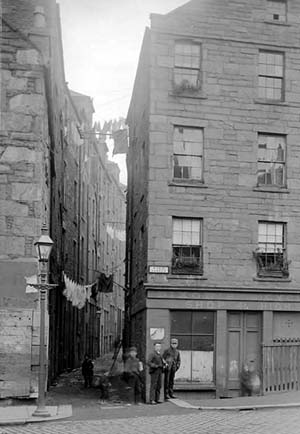 Couttie's Wynd, or as it was originally called, "Spalding's Wynd," can claim a remote antiquity. It was one of the oldest accesses from the shore to the burgh, and was certainly a passage before 1200, and was chosen at that time for the site of the mansion of David, Earl of Huntingdon, brother pf William the Lion.
In 1380 Robert II gave a charter of part if this Wynd to a famous burgess, Patrick of Inverpeffer; but it was not till 1453 that it was described in a charter as "the common vennel vulgarly called Spalding's Wynd". The first of this family recorded was Peter de Spalding from Berwick-on-Tweed, who was personal attendant on King Robert the Bruce, and obtained from that monarch in 1319 the "lands of Balzcondie and Petmethie, in Forfarshire". His son, Richard Spalding, settled in Dundee previous to 1342, and held important offices in the burgh, being a Bailie, and Collector of the King's Customs. David Spalding, his descendant, was prominent in local affairs in 1430; was a member for Dundee in the Scottish Parliament of 1456–58; and as he resided in this vennel it came to be known as "Spalding's Wynd".
This name continued till 1521, when William Couttie, butcher – probably one of the early members of the flesher trade acquired property here; and the place was then called "Couttie's Wynd". His last descendant died in 1604, but the name still survives as a memorial of departed reknown.
Source: 'Glimpses of Old and New Dundee' – A.H. Millar, January 1925