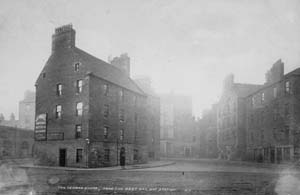 Yeaman's Shore is the designation of a passage from Nethergait to the Harbour, which was in use (under that name) so far back as 1600.
It seems likely that the Yeamans of Dryburgh, near Lochee, had a residence here. The family rose to eminence in the civic annals. George Yeaman was Provost of Dundee from 1706 till 1708, and again from 1710 till 1712, and that at a time when the tenure of office of a Provost was for only one year.
In this street the first regular Dundee Theatre was erected, and is still (1924) in existence, though "fallen from its high estate". On its stage Edmund Kean acted in his early years, as well as many other less-renowned actors.
Source: 'Glimpses of Old and New Dundee' – A.H. Millar, January 1925