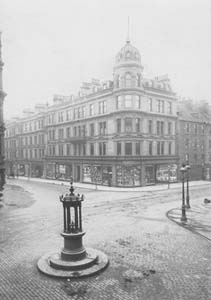 An entirely modern thoroughfare which was opened in 1883, and the name has continued an unfounded tradition regarding its origin. It has been supposed that there was once a King's residence on the site to which the name of "Whitehall" had been given long before Scotland sent James VI to occupy Whitehall Palace in London.
The following is the veritable story:
There were two very old Closes removed to make way for the present Whitehall Street: these were Will Spen's Close and Mitchellson's Close. The former was one of the oldest passages of the kind in Dundee. On the west side stood the mansion of David, Earl of Huntingdon. Erected in 1200, but removed long ago. In 1364 a house on the east side belonged to Henry de Leyis, a prominent burgess and in 1440 his descendant, Thomas Leyis, lived here, and the passage was then called "Leyis Close". George Spens acquired this property in 1564, who was long a Town Councillor and one of the wealthiest burgesses. In 1590 he was succeeded by his brother, Will Spens, who was a leading merchant and building contractor.
As he erected some new tenements in the passage about 1660, it came to be known as "Will Spen's Close". One of these houses was in the possession of James Lyon, merchant, in 1650, and was called "Lyon's Room," meaning his mansion. From him it passed to Sir Patrick Lyon of Carse, second cousin of the first Earl of Strathmore, Professor at St. Andrews University, and Judge of the Court of Session, with the title of Lord Carse. He was an ardent Royalist, he changed the name of his house to "Whitehall" in 1600, and placed the sculptured arms of that monarch above the doorway. These arms remained over the modernised close till 1883, and the stone is now in the Old Steeple Museum. This was the true origin of the name of Whitehall Street.
Source: 'Glimpses of Old and New Dundee' – A.H. Millar, January 1925