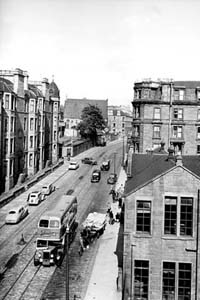 The name of Victoria is familiar to most Dundonians through Victoria Road, now part of the inner ring road but originally constructed to give access to the north of the city by avoiding the unduly steep Hilltown.
Victoria Road was built as a result of the Dundee Improvement Act of 1871; it followed the line of the old Bucklemaker Wynd, which had become something of a slum area but whose name is a reminder of the days before shoelaces displaced buckles, and of the eminence of Dundee in an earlier period in the manufacture of saddlery, sword-belts, straps and scarf-pins.
Victoria Road, on a good day, is a sunny and pleasant place – the imposing Scots Baronial factory-buildings on the north side have been renovated and saved for posterity, and the new flats to the south are a good example of piecemeal urban regeneration.
Source: 'Dundee Names, People and Places' – David Dorward