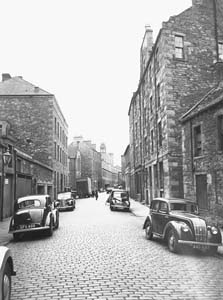 The Sugar-House Wynd, which connects Cowgait with Seagait, preserves the name of an industry that has long been extinct in Dundee. The Sugar-Refining Company was established about 1770, the first manager being Mr Wiedemann, who was brought from Holland to control the business. A house was built for him on the south side of the Cowgait, near the works, and here he remained till his death. For some time his widow carried on the business as a merchant in Dundee, and her name appears in the first "Dundee Register" of 1782.
Mr Wiedemann had a son and a daughter, the former being a shipowner trading from Dundee. The daughter was Sarah Reval Wiedemann, who ultimately became the wife of Robert Browning, and the mother of the famous Robert Browning, the poet. Her brother Captain Wiedemann, sold all his property in Dundee, and took his sister Sarah, to Clapham, London, where she met and was married to Robert Browning the elder, and became the mother of the poet. David Baxter (afterwards Sir David) succeeded Mr. Wiedemann in the practical management of the Sugar House, but the rivalry of Greenock made it impossible to carry on the work and in 1826 the Sugar-Refinery Company closed down.
The site of the old Sugar-house is now occupied by the offices of Messrs. Jaffe Brothers, and only the name of the Sugar House Wynd remains as a relic of an extinct industry. It took its origin from the heirs of Mr. Bell, who made a fortune of £30,000, and had a Boot and Shoe Factory for export, on the site of Baltic Street, in 1774, employing about 200 journeymen. The heirs removed the Sugar-Refinery to Greenock in 1826.
Source: 'Glimpses of Old and New Dundee' – A.H. Millar, January 1925