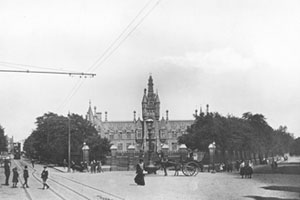 Stobsmuir was at one time a piece of barren land, and was about a mile and a half outside the burgh boundaries. From time immemorial the town held fairs and markets upon it, levying tolls and customs upon goods and animals sold at them in aid of the town's funds. In that way the town acquired or claimed a right of property in the muir or of servitude over it. Disputes arose as to the proprietorship, and litigation was threatened.
An amicable arrangement was, however, reached, under which the muir was apportioned between the disputants, but it was not until about 80 years afterwards – in 1845 – that the town received a formal conveyance of it under a special Act of Parliament in 1831. The burgh boundaries were extended and the muir was thereafter within the bounds of the city. It is surmised that the name "Stobs" may have been derived from the fact that a wooden (or "stob") cross stood on the site of the muir. The fair held there was known as Stobs Fair.
This fair gained an unenviable notoriety as a place where lawlessness was rampant; indeed, the chronicles of those days state – "This fair has always concluded with a list of broken heads, and too frequently with a list of killed and wounded". A tragic event occurred at the fair in July 1809, when a pitched battle took place between a recruiting party of the 25th Regiment of Foot, then stationed in Dudhope Castle, and some artillery soldiers. The soldiers used swords and bayonets, and the populace stones. A young man was struck so violently with a stone that, though he was able to go home, he expired the following morning. The soldiers did not escape scatheless, as two of them were carried from the field in a state of unconsciousness.
A melancholy tragedy occurred in 1824 when a band of infuriated men, armed with clubs and a hatchet, attacked a number of young masons. John Allan, one of the latter, was killed when his brother ran forward to see if he could be of assistance he was also knocked down. John Allan was buried in the Howff.
About 1830 the fair was removed to ground in Strathmartine Road, which came to be known as Fairmuir, and the carnival was continued until 1883, when the late Sir John Ogilvy of Inverquharity, Bart., generously gave over the fairmuir to Dundee to be used as a recreation park.
Source: 'The People's Journal', D.C. Thomson & Co. Ltd.