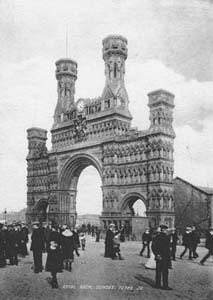 The Royal Arch was erected to commemorate the landing of Queen Victoria at the port, in September, 1844, her Majesty having then passed over the spot where the building now stands, and where, on that occasion, a handsome temporary arch was erected. The authorities, considering that such an important event, as they esteemed it, should be adequately commemorated, resolved to build a triumphal arch of stately dimensions, and accordingly offered a premium for the best design.
The architect was Mr. J.T. Rochmead, of Glasgow; and his design certainly indicated considerable originality and taste. The style of architecture is what is termed the Anglo-Saxon, a style seldom adopted for such erections, although the present specimen unquestionably possesses many beauties; the general effect is imposing, and some of the details are truly exquisite. The material used in the construction is fine freestone; and the work has been executed with no less stability than elegance.
This arch is the largest erection of the kind in Britain. Its dimensions are as follows: Breadth – 82 feet; height of side arches – 16 feet; width of side arches – 10½ feet; height of central arch – 32 feet; width of central arch – 21 feet; height of side towers – 54 feet; height of central towers – 84 feet.
A winding stair leads to the summit, which commands an extensive prospect; and it is intended, we believe, to combine the ornamental with the useful, by having a signal-post on the top of one of the central towers. The total cost of the structure is above £3,000, mostly raised by public subscription.
So far as we are aware, this is the first memorial which has been erected in Scotland in consequence of any of her Majesty's numerous visits to that attractive country.