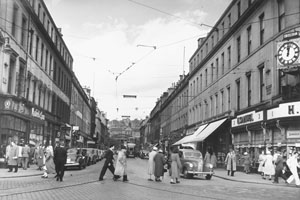 Reform Street was projected in 1824, having been suggested by William Burn, the well known architect. Previous to that time the north side of the High Street presented a continuous frontage of houses and Mr. Burn proposed a new street to the Meadows to run northward from the old Town House. Although negotiations were begun at that date for the acquiring of the properties, these were not completed till November, 1832, and the street was opened in the following year, and named after the Reform Bill. Several architects sent competitive designs for the frontage, but the plan submitted by Mr. George Angus, Edinburgh, was accepted. He was the architect of the High School and the Court-house Buildings in Bell Street. Much controversy arose as to the naming of the street; amongst those suggested being Kinnaird Street, after George, ninth Lord Kinnaird; Jobson Street, after Provost Jobson; and Brougham Street, in recognition of Lord Brougham; while some of the facetious Town Councillors proposed to call it Bond Street or Mortgage place in allusion to the money borrowed for the work, and Weathercock Street in reference to the difficulty of finding a name. As the name Reform Street had been used to designate the new thoroughfare in the titles, it was finally adhered to.
The first feus were taken in 1834 on the west and east side of the new street, facing the old Town House; and the last building erected to complete the street was Lamb's Hotel (now Meadow House) at the north-west corner, which was finished in 1867. In the original plan a street was contemplated running at right angles with Reform Street to join Willison Street and it was named Bank Street after the erection of the Bank of Scotland. In this street the Corn Exchange was built in 1857, the building being afterwards the Kinnaird Hall, and finally the Kinnaird Picture House.
The formation of Reform Street was attended with considerable difficulty. Sat the upper portion, beside the Little Meadow, there was a range of whinstone rock which ran from New Inn Entry diagonally across the new street to the line of Bank Street, and which in some parts was between thirty and forty feet above the level of the High Street. Part of this rock had been quarried away, but the course of the new thoroughfare required the removal of large quantities of rock by blasting. The north end of Reform Street was so marshy beyond this line of rock that it had to be extensively piled before secure foundations for the houses could be obtained.
Source: 'Glimpses of Old and New Dundee' – A.H. Millar, January 1925