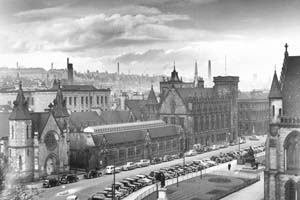 Panmure Street was first projected by the Improvements Bill of November, 1824 and in the following March the Town Council began to acquire the intervening properties so that there might be formed "a new street opening from the Cowgait to the Meadows". In May, 1839, this street was opened, and was named after William Ramsay Maule, the first Baron Panmure, in recognition of "Lord Panmure's recent munificent donations to the funds of the infirmary". Lord Panmure acknowledged the honour thus conferred upon him in January, 1840. The dwellings on the site of the new street had all been removed previous to that date.
Many of the streets of Dundee were named after individuals by their Christian names, and cannot be readily identified without a knowledge of local family history. For instance, the district of Maxwelltown was formed by the feuing of ground near the upper part of Hilltown, which belonged to the family of the Maxwells of Tealing. The first Maxwell of Tealing was Eustace, son of Sir William Maxwell of Caerlaverock, having obtained the lands by his marriage, about 1240, with Agnes, heiress of Sir John Gifford, and from him descended a long line of Maxwells, many of whom were distinguished in history. About 1780, the land at Hilltown was acquired by David Maxwell, Lord Dean of Guild, the last of the name holding the estate of Tealing. When the feuing-plan was prepared setting out the new streets that were to be formed, Maxwell arranged that these should be named after members of the family. This accounts for the names of these streets – Ann Street, Eliza Street, George Street, Alexander Street, Elizabeth Street, and William Street. Several of the members of this branch of the Maxwells were Provosts of Dundee.
Some of the modern streets have been named in connection with estates and their proprietors in the vicinity of Dundee.
Source: 'Glimpses of Old and New Dundee' – A.H. Millar, January 1925