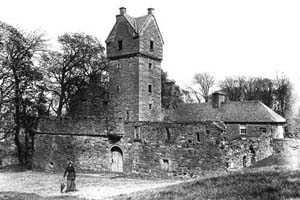 Fintry Castle, or, as it is more generally called "Mains Castle", occupies a pleasant situation on the south side of the Gelly burn, a tributary of the River Dichty. It probably has been erected upon the site of a Castle that belonged in early times to the Earls of Angus, who were Lords of Strathdichty. William, Lord Graham of Kincardine, was married in 1413 to Lady Mary Stewart, daughter of Robert III., and his grandson became Sir Robert Graham of Strathcarron and Fintry, two properties in Stirlingshire. As Sir Robert was married to a daughter of the Earl of Angus, he obtained the lands of Strathdichty as her dowry, and changed the name to that of his ancestral Stirlingshire property, calling the estate "Fintry". From that time the Grahams of Fintry have continued till the present day (1924) with uninterrupted male succession.
Mains Castle was begun by the grandson and completed by the great-grandson of Sir Robert Graham. The latter – Sir David Graham of Fintry – finished the building of the Castle in 1582, as is shown by a dated stone in the structure. It was his misfortune to be concerned in the Popish plot known as the "Spanish Blanks", for his complicity in which he was executed at Edinburgh in 1592. The property remained in the possession of the Grahams of Fintry until it was acquired by David Erskine, W.S., about 1788, the seller – Robert Graham of Fintry, the friend of Robert Burns – stipulating that the old name of Linlathen should be taken as the proprietory designation of the purchaser, whilst Graham's family would retain the distinction "of Fintry" for all time. The Grahams of Fintry settled in South Africa, where they founded Grahamstown, and have held high positions in the politics of the locality.
In 1912 the late Sir James K. Caird, Bart., purchased from the late David Erskine of Linlathen the ruinous Mains Castle, and that part of the estate upon which it had been erected, and presented the ground to form a splendid recreation place called the Caird Park. It is furnished with a golf course, an artificial pond and cascade, and recreation grounds for football and other games. The Caird Park was formally opened on 27th October, 1920, by Mrs. Marryat, sister of Sir James Caird, Bart. The estate of Belmont, near Alyth, which was the residence of the Earls of Wharncliffe, and afterwards of Sir Henry Campbell-Bannerman, Prime Minister, which had been purchased by Sir James Caird, was also handed over to the Town Council by Mrs. Marryat.