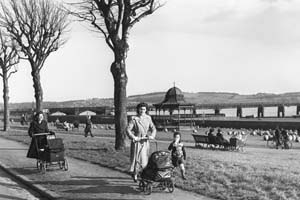 Magdalen Green, over 20 acres in extent, is on the bank of the River Tay, and at one time formed part of the estate of Blackness, held by the Wedderburns, and afterwards by the Hunters. It is supposed that the name was derived from a Chapel dedicated to St. Mary Magdalen, which is said traditionally to have been at the foot of what is now Step Row.
After the Reformation the ground was secularised with other ecclesiastical property, and handed over to the Town Council; but up till quite recent times the Laird of Blackness, Mr David Hunter, claimed that he had control of all this space, as the bound of his Barony was the river, maintaining that ""agdalen Green" formed part of the lands of Blackness. Much litigation ensued between the Town Council and Mr Hunter but eventually a compromise was made, and he received £1,500, and the Green became the absolute property of the Town Council.
The place has been skilfully set out for recreation. Probably the original names was "Magdalen Gair", meaning the garth or garden-ground of the Chapel; but this designation in time was corrupted into "Guard", and latterly into "Magdalen Yard", by which it is now known.
Source: 'Glimpses of Old and New Dundee' – A.H. Millar, January 1925