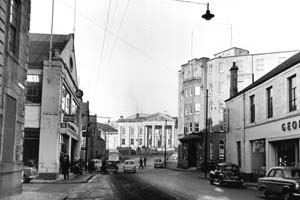 Lindsay Street was a narrow thoroughfare known in the 17th century as "School Wynd", after the grammar school had been moved thither from the Vault.
It takes its name from William Lindsay, who was Provost of Dundee from 1831 till 1833, and who had strongly advocated the transforming of the wynd into a spacious street.
He was of the family of the Lindsays of Bowhill, who were directly descended from the Earls of Crawford. He was born in Edinburgh in 1767, and came to Dundee when he was about 25 years of age, forming a large business as a corn merchant, and being very successful in the export trade.
After serving as Dean of Guild in 1827 and 1828, he entered the Town Council as the representative of the Guildry, and in 1831 he became provost. In the next year he was again chosen for that office after the Reform Bill of 1832 came into operation.
He died 17 years later in his 83rd year.
Source: 'The People's Journal', D.C. Thomson & Co. Ltd.