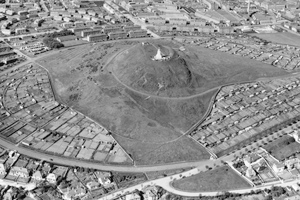 The Law Hill formed part of the estate of Dudhope when it was held by the Scrymgeoures. After the lands were divided and sold to various proprietors, it was included in that portion known specially as Dudhope, the mansion of which was Dudhope House. This ultimately came into the possession of the Rankines of Dudhope.
The Law was acquired from William Macbean Rankine by the Town Council in 1879, and made a recreation place for citizens. A fine carriage-way has been formed, circling around the Law to the summit, from which position an extensive view may be obtained of the lofty hills and eminences in Forfarshire, Fife, Perthshire, Inverness-shire, and even as far north as the Grampian range in Aberdeenshire.
The Memorial commemorating the Great War in 1914–1918 was erected here in 1924, in recognition of the part played by Dundee in that contest. The Law Hill and the ground forming the approaches to it from the city occupy over 17 acres.
Source: 'Glimpses of Old and New Dundee' – A.H. Millar, January 1925