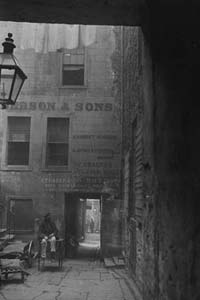 Still another of the ancient Closes swept away to make Whitehall Street was that which was latterly known as "Key's Close." It stood between Whitehall Close and Scott's Close, to the east of the former. This passage was in existence about 1450, and in it was the house of Treasurer Brown, where his son George, afterwards Bishop of Dunkeld, was born. In 1485 the Bishop founded the Altar of the Three Kings of Cologne in St. Mary's Church, and handed over the house of his birth, with other properties, for this purpose. The occupant at that time Will Schippert, a leading baker of the period and in the charter; the passage is described as "Will Schippert's Close". For centuries afterwards the Close was associated with the Baker Trade.
About 1730 Andrew Watson, baker, acquired property in the Close, and the name changed to "Andrew Watson's Close," which designation remained till long after his death in 1780. William Key, cabinet-maker, and Deacon of the Wright's Trade, purchased a house here in 1804, and the name was again altered to "Key's Close," which was retained until the Close was removed.
The Wright Trade acquired an extensive portion of buildings, and formed the Wright's Hall, which was used for trade and public meetings. Thomas Colville & Son, the leading printers in Dundee, occupied Key's house in 1816, and from it was issued the first number of the "Dundee Weekly Courier" in September of that year.
In November, 1823, David Hill succeeded Colville, and continued to issue the "Courier" from Key's Close till Aprill, 1861, when the printing-office was removed to New Inn Entry. Here it remained till November 1892 when it was transferred to the new building in Lindsay Street. In June, 1906, Messers. D. C. Thomson & Co., Ltd., again removed to splendid new "Courier Buildings" in Albert Square and Ward Road, erected by the firm.
Source: 'Glimpses of Old and New Dundee' – A.H. Millar, January 1925