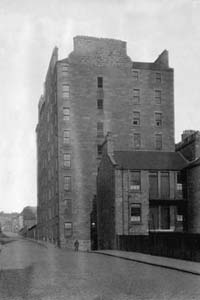 The towering tenement known as the "High Land" is one of the most conspicuous objects in that part of the city which for over a century has been known as 'Scourin Burn', and which in 1906 was re-christened under the title of 'Brook Street'.
It was erected in the middle "sixties" by Mr. Robertson, a gentleman of eccentric habits. Situated in the Larch Street / Walton Street / Urquhart Street area, it was built to house the workers of a nearby jute mill.
The frontage to Larch Street is 126 feet, and to Urquhart Street 44 feet. There are nine storeys 10 foot high, giving a total height of 90 feet. None of the flats are underground, the building commencing from the level of the street. The height from the ground to the top of the highest chimney is 102 feet. The view from the top flat of the building on a clear day is very wide, extending from the Bell Rock on the east to Newburgh on the west. The site is in a very elevated part of Dundee, and the building itself is higher than any other houses in Dundee. There are 187 rooms in the building, each fitted up with water and water-closets.
Eight storeys high on the Larch Street frontage and nine at the back, the top three storeys were closed in the 1890s because they were beyond reach of fire escapes.
The building was condemned some time between 1936 and 1946 and demolished c.1965.