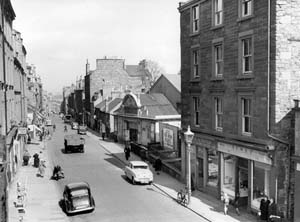 The name of Hawkhill can be traced back to the late fifteenth century – say about 1490. It was the main access from the west until Perth Road was formed; and was the highway from Dundee to Perth for a very long period. This was what made it necessary, for defensive purposes, to maintain the West Port. The designation suggests that in early days this quarter may have been devoted to the sport of hawking, as the Meadows were set apart for archery, and a long retained the name of "the Butts," after the days of wappinshaws were over.
The mansion known as Hawkhill House is of a much later date, and probably took its name from the street that ran beside it. Perth Road, which diverted the westward traffic, was one of the plans of George Dempster of Dunnichen towards the close of the eighteenth century. As he was then the head of the Dundee Bank, he agreed to advances for the purpose of forming Perth Road, and one of the earliest builders to take advantage of this privilege was James Miln, builder, who was made a Burgess gratis for his assistance at a fire in the old Town House in 1770. Almost the first houses in this part of the Nethergait were the houses known till the present day as "Miln's Buildings," on the south side of the thoroughfare. The ground upon which this continuous tenement was erected had belonged to the Red Friars' Monastery, which after the Reformation, was an Almshouse, and afterwards the Seminary from which the High School was developed, and is now the site of St. Andrews R. C. Cathedral.
This stretch of ground between the new Perth Road and the river was known as "Monksholm," and unquestionably belonged to the Red Friars' Monastery, though all the Church lands were secularised in Queen Mary's time, and handed over to the Town Council for administration under special conditions. James Miln erected this terrace of houses in 1788, principally that they might be occupied as the town residences of the country gentry. At a much later date, Perth Road was extended westward until it was joined by Hawkhill at the gushet known locally as "the Sinderins," or separation of the roads. The old road to Perth ran on the upper reaches, passing over Menzies Hill at Invergowrie, and coming down to the course of the present highway beyond that village.
Source: 'Glimpses of Old and New Dundee' – A.H. Millar, January 1925