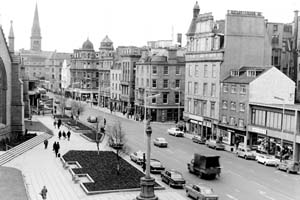 Early medieval thoroughfare gradually developed with expansion of town westwards past St. Mary's parish church.
Tradition that original name from 'fluker' a type of fish. Nethergait means the lower gait. Overgait being the upper.
The part of the street from High Street to Tally Street called Our Lady Gait.
Nethergate from High Street to South Lindsay Street constructed 1776. South frontage well and evenly developed but north frontage at St. Mary's Church built over kirkyard. Street widened beyond this point to Nethergate port at foot of Long Wynd. Burgages at this date. Still relatively free of buildings on both sides of the street. Appearance little changed 1793. Buildings apparently removed from south side at this point, though construction at site of port remains. This cleared by 1812 and laying out of South Tay Street and Crichton Street put through south frontage 1783. Union Street also on south frontage, 1828. Whitehall Street put through 1883. Otherwise frontages maintained until 1975. Nethergate Centre developed at end to the rear of 66–80 Nethergate. South frontage now chiefly occupied by 19th century and later buildings mostly with cellarage.
Source: 'Historic Dundee – The Archaeological Implications of Development', Scottish Burgh Survey 1988