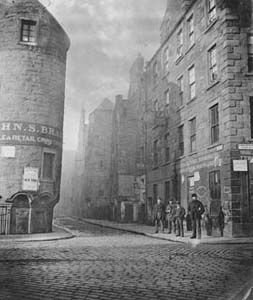 At earliest date narrow passage skirting sea shore. About Reformation, north street frontage made continuous.
Sasines c.1560 describe road as the passage to the narrow harbour at the windmill.
Houses to north of what was to become north west frontages described as having 'the sea flude on the south'. Old Custom House on south frontage of 'Fish Street' mentioned in weill 1648 of Provost James Pierson; street therefore well establishment by that date. Marketgait burgages gradually built up, eventually forming north west frontage of Fish Street.
Street cleared 1883 to lay out Whitehall Street/Whitehall Crescent. Alignment lost as north east section built over; frontages may survive beneath road at Whitehall Crescent. Drain laying c.1890 disclosed distinct archaeological levels below the existing level of Whitehall Crescent.
Excavations in 1890 also showed that after Fish Street fully formed with frontages on both sides, width 28ft at widest point, 21ft at east end.
1776 West Shore
1793 West Shore Street
1814 Fish Street
Source: 'Historic Dundee – The Archaeological Implications of Development', Scottish Burgh Survey 1988