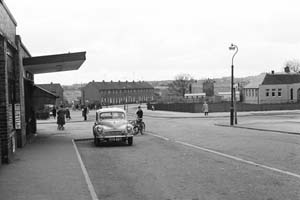 Fintry embodies the Pictish words fionn (white) and tref (place, stead), and the street names in the scheme were studiously taken from other place-names containing the syllable fin.
Thus, Finavon Street, Findhorn Street, Findowrie Street, Finella Place, Finlow Terrace: truly a celebration of whiteness – and the name of the adjacent Whitfield has of course the same sense.
But all this is somewhat fortuitous, for the name Fintry was brought to these parts by the family of Graham who held the lands of Fintry in Stirlingshire. The Grahams – not a Highland clan but a Lowland family – accompanied the Earl of Huntingdon (brother of William the Lion) to Scotland on his return from England in 1124. The family rose to great prominence in the wars of Wallace and Bruce but were unjustly deprived of the earldom of Strathearn in the early fifteenth century. A branch of the family had acquired lands in Angus which earned their owners the earldom and later dukedom of Montrose; hardly less notable were the Stirlingshire Grahams, one of whom, Sir Robert graham of Fintry and Strathcarron, married a Scrymgeour of Dudhope. From this union came the junior branch who took the designation of Claverhouse from their newly acquired estate of that name; the other branch retained their title of Fintry, and gave it to the castle which they commenced building in the Den o' Mains.
The Grahams had always been a royalist family and were to continue so for at least another two centuries. Sir David Graham, builder of Mains Castle (or Fintry Castle as he would have called it) had supported the Roman Catholic Church during the reign of Mary Queen of Scots. He was implicated in a plot, known to history as the Spanish Blanks, and when it failed he became the scapegoat, although several high-ranking nobles (possibly even the king, James VI) were mainly responsible. He was executed in 1593.
Thereafter the Grahams of Fintry fade into relative obscurity, leaving the honours to their kinsmen Montrose and Claverhouse. They retained their lands however until the early 1800s, and the last of them, Robert Graham (a friend of Robert Burns) was forced for financial reasons to sell the lands of Fintry to David Erskine, and although Graham retained the territorial designation 'of Fintry' he moved with his family to the nearby estate of Duntrune. The Grahams went to the Cape during the South African wars, and the settlement of Grahamstown was named after the thirteenth laird of Fintry, 'in testimony of the service of Colonel Graham, through whose exertions the Caffre hordes have been driven from that valuable 'district'; thus the family name and fame were to be preserved on another continent.
The remains of the Graham family vault can still be seen in the old Mains churchyard just across the den from the castle.
Source: 'Dundee Names, People and Places' – David Dorward