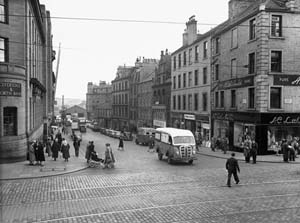 Crichton Street received that name from a peculiar circumstance. Dr. John Crichton, who was an eminent surgeon, was the son of Baillie Thomas Crichton, and was born at Dundee in 1772.
He studied Medicine at Edinburgh University, and settled as a young doctor in his native city, from which place he never re-moved during his long life of 88 years.
In 1820 it was proposed to open a new street to connect Nethergait with the Harbour, but Dr. Crichton's house stood directly in the line of the suggested plan.
After some negotiations, Dr. Crichton at last consented to sell his house to the Town Council on condition that the street should be named after him hence the origin of Crichton Street.
The doctor's death took place in 1860, so that he survived to see the street become a thriving thoroughfare.
Source: 'Glimpses of Old and New Dundee' – A.H. Millar, January 1925