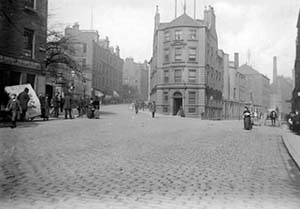 Medieval street declined in 15th century, some of the buildings removed for extra defence on construction of 17th-century wall. Devastated in 16th and 17th centuries by attacks on town and sparsely inhabited in 18th century.
Chiefly yards and old walls on both sides in 1756, when claimed only two houses inhabited. North frontage in process of development 1776. South frontages virtually build up by 1793.
King Street inserted into north frontage between 1776 and 1793. Widened on south west frontage at Murraygate junction 1909. Position of East Port suggests frontages here stepped back at construction of East Port Works in 19th century and works on south side of street. Frontages on north and south side of Cowgate were extensively cleared in 1987.
Source: 'Historic Dundee – The Archaeological Implications of Development', Scottish Burgh Survey 1988