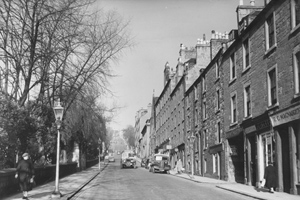 Constitution Road, is a very old highway, which acted as a connecting link with the town via the wards and meadows to Over Dudhope, Lawhill and Strathdichty in times gone by. Few buildings graced its slopes, however, and a century ago most of the ground, with the exception of a number of market gardens near Meadows and East and West Chapelshade, was little else than moorland.
At the time several cottages, which collectively bore the name "Culloden" stood on the ground now occupied by Bell Street Church, and close to the cottages a row of elm and beech trees provided an agreeable lounge in summer. Bell Street was laid out about 1828–30, and derived its name from Provost Bell, who was then Chief Magistrate.
Before the cemetery was made in 1834 the ground was let as allotment gardens. The plotholders removed to another stance north of the cemetery to be again displaced in 1866 to make way for Garland Place and the Catholic Apostolic Church. The coach building premises in the forefront (demolished at the end of the 19th century to make way for the General Post Office) were erected in 1845–46 by Mr Thomas Cuthbert, who belonged to Perth. Mr Cuthbert subsequently became a magistrate.
The public bleaching green in line of the Meadows was inaugurated in 1830, and the terraces opposite were gradually built from 1840–50. Chapelshade UF Church was opened a few years after the Disruption, and was sold for commercial purposes in 1916.
About 1860 a one-storey cottage stood at the foot of Constitution Road, west side, and a slater's yard adjoined. A few years later both were removed to make way for the iron merchants' offices and warehouses which probably now demolished fill in the corner.
Source: 'The People's Journal', D.C. Thomson & Co. Ltd.