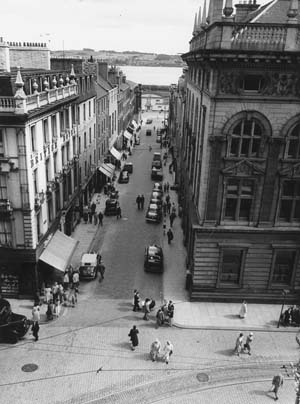 Castle Street derives its name from the fact that the thoroughfare was cut through the vast rock on which the ancient Castle of Dundee stood.
No trace of the castle now remains, and though from its history it is apparent that it was regarded in warlike times as a place of great importance, there are few clues afforded as to its extent or appearance. It is not known when it was built nor whether it was the chosen residence of King Edgar. The earliest reference to the building is found in connection with the occupancy of Scotland by Edward I.
It is often stated that, by the instructions of Sir William Wallace, the castle was totally destroyed, but it seems probable that the fortress was dismantled though not utterly demolished, by Sir Edward Bruce when he razed other fortalices in Scotland, so that the whole of the Scottish forces might be concentrated at Bannockburn.
Certain it is that from the date of that battle the Castle of Dundee disappears entirely from history. It is not improbable that the English forces, not receiving the support which they expected, abandoned the castle, destroying its fortifications, and made their escape by sea.
Source: 'The People's Journal', D.C. Thomson & Co. Ltd.