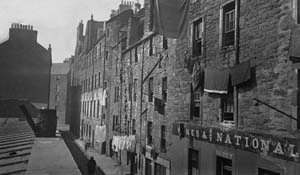 Butcher Row, which stood near the Greenmarket, dated back to the latter part of the 17th century. Almost two hundred and 50 years old, it was cleared away some time ago. The tenements between Butcher Row and Fish Street were acquired in 1875 by the Commissioners of Police, and were gradually removed to make way for Whitehall Crescent.
The name Butcher Row was quite a modern designation for the street. The first known name was Flesh Market Street, taking that name after the new flesh market was established on the south side in 1775, the old market being situated at the east end of the High Street, and known as the Shambles. This thoroughfare was known by that name until 1793, when the name of Shore Head Street was adopted. Ultimately in 1813, the street received the name of Butcher Row.
One of the striking features of it was the somewhat uncommon architecture. On a house, in all probability built by a burgess of refined tastes and ample means, was the date 1684 carved out of the wall in huge figures. The inclusion of several pottery jugs built into the wall was also unique.
It is conjectured that the mansion was built by James Wedderburn, second son of Sir Alexander Wedderburne of Blackness. He had two sons, the elder of whom, Alexander, became Sir Alexander Wedderburn of Blackness, having purchased the estate from his cousin, Sir John Wedderburne, and succeeded to the title.
Source: 'The People's Journal', D.C. Thomson & Co. Ltd.