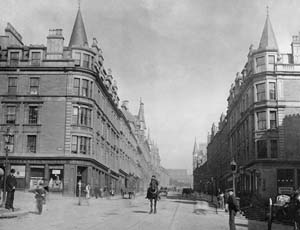 Several of the extinct industries of early times are only kept in remembrance by the names of streets associated with them; and in some cases even these names have disappeared.
For instance, the Bucklemaker Wynd (now Victoria Road) refers to a branch of the Hammermen Trade; and as in the olden time occupations were hereditary, descending from father to son, the members of a trade usually congregated in one locality. At one period the trade must have been fairly extensive, as in old maps of Dundee this Wynd extended, as shown, from the Meadows to the Dens Burn. The work done by these craftsmen included the making of buckles of all kinds – for saddlery, for sword-belts, and for every kind of buckle used alike in war and in peace. At a later date the decorative shoe-buckles and scarf-pins fell into the hands of jewellers – also a branch of the Hammermen – and gradually the buckle-makers dropped out of notice.
The Bucklemaker Wynd for centuries formed one of the chief routes from Dundee to the east. When the Dundee Improvement Act of 1871 came into operation, the Wynd was removed, and Victoria Road, a broad thoroughfare, was constructed on the old line of the early street.
Source: 'Glimpses of Old and New Dundee' – A.H. Millar, January 1925