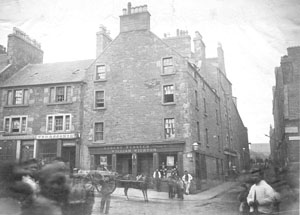 The Bonnet-hill, or Hilltown, was so called because it was chiefly inhabited by bonnet-makers, who frequently plied their vocation when seated outside of their dwellings.
The Bonnet-maker Trade was the fifth in the order of the Nine Trades; and though the early documents before 1600 have been lost, it is probable that 1529 was the date of its institution. Though now a continuous street in a populous locality, there were few houses on the Bonnet-hill a hundred years ago, and these were of humble appearance. Almost every building of an earlier time has been cleared away, and the name "Bonnet-hill" is a misnomer. In 1832 there was only one surviving bonnet-maker who plied the knitting needles as in the olden time, and he died in 1848, on the verge of his hundredth year.
The Bonnet-makers still hold rank among the Nine Trades of Dundee. The manufacture of bonnets of the Dundee kind was transferred to Kimarnock.
Source: 'Glimpses of Old and New Dundee' – A.H. Millar, January 1925