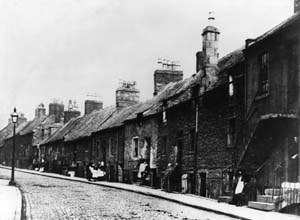 Blackscroft was at one time part of the estate of Craigie, which belonged to Isabella de Bruce, second daughter of David, Earl of Huntingdon, and wife of Robert de Bruce, ancestor of King Robert the Bruce. About 1240 she granted her lands of Craigie to the Abbey of Lindores, which her father had founded.
In 1340 the estate belonged by purchase to Walter of Balmossie; and on his resignation, in 1378, it was granted by Robert II to Patrick of Innerpeffer, who died in 1390. After his death at Falkland of the hapless Duke of Rothesay, his father, Robert III, assigned part of this property to the Altar of St. Salvador in the Church of St. Mary of Dundee, so that prayers might be put up for his murdered son.
The Abbot of Lindores held the property in feu till 1540, at which time it was tenanted by David Wedderburne.
The river-side part of the estate was then possessed by George Rollok, and he feued it to Patrick Black, wright. This Patrick Black was entered as a Burgess in 1524, and was employed to repair the carpenter-work at the Church of St. Mary, his payment being deducted from his rent of this part of Craigie estate. His son, George, succeeded him, and in 1581 the name of "Blackscroft" first appears in the accounts of the Hospital-master.
The ground came into possession of the Kyd family, and in 1684 Kyd sold Blackscroft to David Lyon, who disposed it to James Ross. In 1730, Ross disposed the property to the Nine Trades of Dundee. After various attempts to feu the ground, the Nine Trades ultimately sold it to James Guthrie, Jun., of Craigie, in 1766. Guthrie began at once to feu out the land for building, and it was then that the first buildings on Blackscroft were erected. At that time the gardens of these houses extended to the margin of the river; but the reclamation of ground from the Tay altered the whole appearance of the locality.
By 1858 a vast tract had been reclaimed; Camperdown Dock and Victoria Dock had been constructed; East Dock Street formed; the Railway Mineral Depot laid out south of Foundry Lane; and the whole vacant space north of Blackscroft had been closely built upon. One of the peculiarities of the Blackscroft houses was that because of the declivity towards the river the main entrance from Broughty Ferry Road was by a short flight of steps, while the gardens to the south sloped gently to the Tay.
Some of the older houses were acquired by the Town Council, and removed to prepare a site for St. Roque's Library and Reading-rooms, erected in 1911 as part of the Carnegie Library Gift to Dundee.
Source: Source: 'Glimpses of Old and New Dundee' – A.H. Millar, January 1925