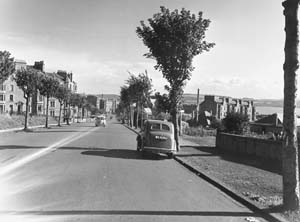 Reference has been made to the names of streets that perpetuate the designations of mansions in the locality. One of the latest instances of this kind is Blackness Avenue in Perth Road. This was originally the approach to Blackness House, which is still an inhabited mansion. In 1642, Sit Alexander Wedderburne, Knight (1610–1675) began to acquire portions of the estate from Donald Thornetoun of Blackness, and ultimately purchased the whole of the grounds and the mansion. He was Town Clerk of Dundee from 1633 till 1675, and was a prominent personage in the burgh, taking the territorial title of "Sir Alexander Wedderburne of Blackness".
There is still at Blackness an oak tree, said to have been planted by Charles II when he visited Sir Alexander. His second son (1641–1706) was the first Baronet of this family; and the title and property were continued until the time of Sir Alexander, fourth Baronet of Blackness (1675–1744), who was Town Clerk in 1715, and was deposed for his Jacobite opinions. He got into monetary difficulties, and had to sell Blackness in 1743, when the estate and mansion were acquired by Alexander Hunter of Balskelly, whose descendant is the present (1924) proprietor.
The greater portion of the estate has been feued and formed into streets and terraces.
Adapted from: 'Glimpses of Old and New Dundee' – A.H. Millar, January 1925